Monday, September 15th, 2008
Or, as I like to call it, Extreme House Makeover, Canadian-Style.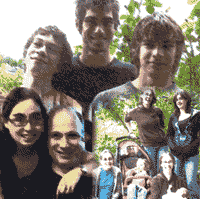 Imagine that you and your husband have nine kids aged 1-24, some with special needs and some adopted.
Imagine you'd do anything for these children, including opening your home time and again to another soul in need.
Imagine that you'd adapted your house as much as you could, including changing the living room into a bedroom for some of the children, but space is still at a premium.
Imagine you finally decided to approach a builder about a renovation. Say, a family room?
Imagine the builder decides to rally community volunteer and financial resources to surprise you, your husband, and your kids with not only a new family room, but an entirely new house?
Sounds like a familiar TV show, doesn't it?
Except it's not.
It's Project Family Room.
Here is my buddy Crys's house getting demolished in early September: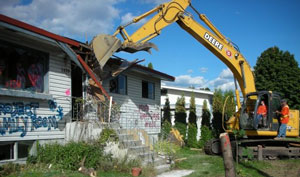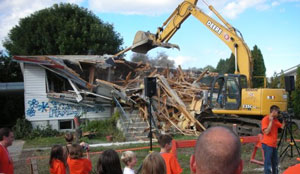 And it all falls down!
Not to worry, it's getting built back up again. From the Project Family Room website:
The new house will be a 2-storey plus finished basement, for a total of 3650 sq ft. The main floor will be wheel-chair accessible. There will be 7 bedrooms, an office/guest room, an attached double garage, and enough space for a really big dining table! Their property will also be fully landscaped.
Amazing!
Recently, I asked Crys to describe her feelings about this incredibly generous and humbling experience. I could paraphrase what she said, but her words are so much more eloquent than what I could up with:
Cindy, absolutely nothing surprises me now. Having something this big and wonderful has given us a new perspective on everything.  When you agree to let someone knock down your home, you really do realize how connected you are to other people. Dozens of people helped us move our things to a donated rental house, and once there, we discovered that the house we left was not home, we were a home. The first time I went down to where our house used to be, I stood peering into the hole where our basement once was. The bushes rustled and my neighbour pushed through them. She sighed and confessed that seeing the house vanish in a matter of days had sobered her. We think our homes are solid and a place of refuge and we take that for granted. I know I needed this shake up.

Our place of refuge is our community, our family, our God. The rest crumbles quickly.
She went on to tell me more about the volunteers involved:
There are hundreds of people involved in Project Family Room. Only some of them are builders, contractors and suppliers. Most of them are people like you, who reach out and celebrate with us, care for us and give the best they have. People who have the ability to see clearly something that has not yet been created, and then see a way they can share in the creation. 

We only hope we are able to live up to the vision, that our new home will be full, welcoming and blessed. Give me a call in January and I'll put the coffee on!
Crys, I think I'll take you up on that!
Donations to Project Family Room are gratefully accepted. Please visit the website for more information, to view pictures, or cheer them on.