Tuesday, April 28th, 2009
Call me strange, but I love this picture: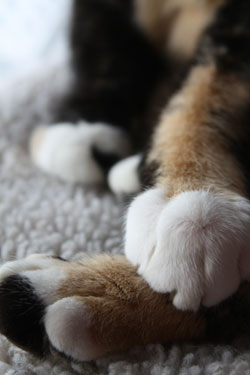 (Call me strange, please!)
I received a new camera for Christmas, but because I've been so focused on the WIP, I haven't had much time to play with it. "Cat Paw, with Foot" is the height of my creative abilities for the moment, I'm afraid. But isn't it cute?
I took an extended long weekend over the past few days, leaving early Friday morning with My Liege to pick up Eldest Son from university. Drove back Sunday, fell into bed from exhaustion. Yesterday, more exhaustion, as E.S. and I had to drive again, this time to a closer university, to explore his options for after he earns his B.A. I'm getting back to the WIP today, but have realized it's probably overly ambitious to announce that I expect to be finished this week. So I won't. Announce it, that is. And I don't expect it, either. I'll be more than happy to finish next week.
So, Blog Lite will continue over the next several days. Luckily, Silhouette Special Editor author Mary J. Forbes is guest blogging next Tuesday, May 5th, to help me take up the slack. And I did take some nice photos of the ferry trip to pick up E.S. If I get time, I'll try to post some here. They were point and shoot, unlike "Cat Paw, with Foot." But the scenery is gorgeous all the same.