Monday, July 19th, 2010
Yes, I'll return to posting about Peru. Look for a new Peru post this Wednesday. But, first, let me entice you to visit tomorrow and meet my pal, Harlequin American Romance author Marin Thomas. Marin is blogging about the Harlequin American Romance line and how it differs from other "home and hearth" category lines at Harlequin/Silhouette. Here's your chance to pick the brain of a successful American Romance author—whether you're a writer or a reader. Marin would love to hear from both!
Every person who leaves a comment at Marin's blog tomorrow will enter to win a copy of her latest American Romance, DEXTER: HONORABLE COWBOY. Please leave your comment on tomorrow's post to enter. If you're reading this post through a feed at Goodreads, Facebook or another social network, please note that you need to visit www.museinterrupted.com to enter.
Without further ado…!
About DEXTER: HONORABLE COWBOY
The Codys: First Family of Rodeo Mini-Series

For This Cowboy, Family Comes First

Josie Charles was back in town, and Dexter Cody desired her as much as ever. She was his twin brother's girl, but it was hard to act honorable when all he wanted was to stake his claim on the woman and her boy. Sooner or later, his brother was going to step up and do the right thing. And when that time came, would Dexter be able to step aside and lose Josie all over again?

No way was Josie losing her heart to the sexy-as-all-get-out rancher. The last thing the single mother needed was another Cody messing with her life. But her high school pal had sure grown into one fine-looking cowboy. Caring. Hardworking. Responsible. Exactly the kind of man she'd want to be a father to her son.

Which one is the right brother? Looks as if there's going to be a showdown…
About Marin: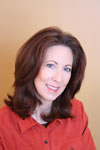 Marin grew up in the Midwest town of Janesville, Wisconsin. She attended the University of Arizona in Tucson on a Division l basketball scholarship. In 1986 she graduated with a B.A. in radio-television and married her college sweetheart in a five-minute ceremony in Las Vegas.  Marin was inducted in May 2005 into the Janesville Sports Hall of Fame for her basketball accomplishments.
Even though she now calls Chicago home, she's a living testament to the old adage "You can take the girl out of the small town but you can't take the small town out of the girl." Marin's heart still lies in small-town life, which she loves to write about in her books.
To learn more about Marin and her books, please visit her website.
See you tomorrow!