Friday, July 9th, 2010
Today, both Steve and I fell ill, but luckily we waited until we returned from a full day visiting artisans' workshops in the villages around Huancayo (well, Steve woke up feeling cold, but we didn't realize he was getting sick). Visiting the artisans was one of the highlights of our trip. The people in Huancayo aren't as accustomed to tourists as they are in Cusco, the Sacred Valley, Aguas Calientes (the town closest to Machu Picchu), and Puno (Lake Titicaca). Nasca is more accustomed to tourists, as well, but we never felt like we were being hassled in Nasca ("Buy this! Buy that!"). And we didn't experience incessant hawking in Huancayo, either. They just let us be. Even if you're going through the markets, no one made an extra effort to get you to buy THEIR wares. They just let you browse at your leisure. I didn't realize what a treat this was until we reached Cusco, where "Peruvian Disneyland" came into full swing.
In Lima, we were cautioned that the highland people (around Huancayo) might not be as welcoming, because they aren't accustomed to tourists. Nothing could be further from the truth! They were very friendly and wanted to make us feel welcome. I'd thoroughly recommend visiting Huancayo for the experience of taking the train. But I wouldn't stick around the city. We signed up for two day tours, one with the artisans and the second taking us around the historical areas of the city. We were joined on the first day by four tourists from Japan, who were a delight. We had so much fun getting to know them. The two days were packed! We had to cut the second day short…because of falling ill and the blasted laundry not getting returned when we were told it would be. But the days were excellent, and our guide, Suzannah, was warm and generous and overall just a very nice person.
The landscape surrounding the villages outside of Huancayo was totally different than what we'd experienced in Nasca. Remember the lunar-like landscapes of Nasca? Surrounding Huancayo, there's green! Tons of green! Again, a white sky in the morning, which, again, we were told was unusual for Huancayo. But the green, green valleys felt like home. Very peaceful.
We also saw a lot of Peruvian women wearing traditional dress. Our guide, Suzannah, was in jeans and a long-sleeved top like we were, but braids, skirts and hats were the uniform of the day for the women we encountered as we traveled through the villages: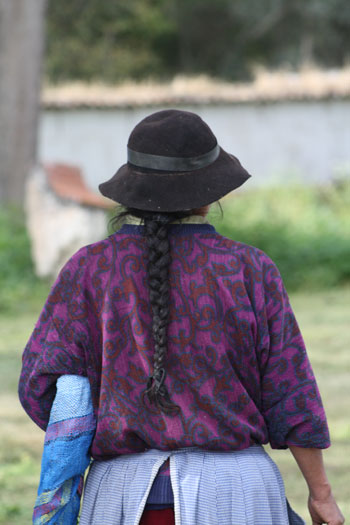 Trip Tip! Posting the photo of this woman's braid reminded me of my own hair experiences while in Peru. I have lots of hair, but it's thin. If I don't use a blow-dryer and/or curling iron, it just kinda hangs lankly. So I took along a travel blow-dryer and my mom's tiny butane curling iron. In Huancayo, the curling iron stopped working. I thought it was broken, but it worked again in Lima. It also worked in Aguas Calientes (outside Machu Picchu). But not in Huancayo, Cusco, or Puno, all of which are 11,000 feet above sea level or higher. Machu Picchu is about 8000 feet above sea level. So…if you need a curling iron, buy a tiny electrical one. The butanes don't work above 8000 feet!
Our first visit was to a gourd carver. We didn't just visit his place of work; we were in his home. He looked pretty old by our standards. I don't know how old he actually was, but I asked Suzannah how long people lived in that area, and she replied, "Maybe 65 or 70." They work very hard. Oh, and we learned from our guide at Machu Picchu that they don't have pensions. So they keep working, unless they have someone else to support them.
They make two main types of decorative gourds: one with elaborate carvings, and the etched lines are darkened with soot. So it kind of looks like they've been drawn on, but they haven't. They're completely hand-carved.
The second type of gourd is also carved, but the carvings aren't as elaborate. These are the gourds that get "painted" by burning with the end of a stick.
It was a treat being in the gourd-maker's home. We were the only tourists there. Our second stop took us to see weavers, but it was a far bigger enterprise and a tour bus with over a dozen people quickly descended, so we left to see the silver jewellery maker. Completely handmade silver earrings and necklaces. Very intricate work. We were totally blown away.
After visiting the artisans, we went for lunch. Steve introduced himself to a Peruvian delicacy:
In the afternoon, we visited a monastery and met Peruvian children on a school outing. By the time we were dropped back at our hotel, we were exhausted. Steve had begun feeling worse and worse throughout the day, and I noticed a sore throat coming on. Strangely, we had different illnesses. I began a sore throat/head cold combination. A visit to a Lima pharmacy after our weekend sojourn to Huancayo helped with my sinuses, but the sore throat kept returning to haunt me, and I have only recently recovered. Traveling by air is not your throat's buddy, I discovered on this trip. Taking 4 planes in 24 hours REALLY ain't your throat's buddy!
Tip Trip: No, I couldn't find North American cold remedies in Peru. Not even in Lima. Some North American products existed (like Lays potato chips), but not in cold products. But little drugstores are everywhere and the personnel are helpful. The Peruvian cold tablets I bought for my head cold worked like a hot damn!
As part of the tour, we had vouchers for a free dinner, but neither of us felt up to it. Steve got sicker and sicker throughout the night. He wrapped himself in blankets, and we waited for 9 p.m. to arrive, which was when our laundry would get returned…we thought! When it wasn't returned, we went round and round with the hotel reception guy, who, frankly, wasn't at all helpful. The girl the next morning really tried to help us, but he'd say things like, "I'll come to your room to talk about it," and then never show up. Meanwhile my poor dh was getting sicker and sicker. We finally discovered, after being told time and time again, "We'll have it in your room in half an hour" (but in Spanish, which we were translating and maybe mangling in the process), that we weren't getting our laundry that night. This was when we learned that they didn't actually do the laundry IN the hotel. They had machines, but used them for the sheets and towels and farmed out the laundry. Nobody told us this when we decided to use the "laundry service." Never again did we use a hotel laundry service while in Peru. We found laundromats on our own, on the street. They are plentiful.
Tip Trip: In the highlands, most Peruvians still do their laundry in rivers, or in wash tubs in the back yard. They can't afford washing machines and dryers. If they have them, it's usually for a business. So when a hotel says they provide laundry service, unless it's a very big hotel, what they mean is that they send OUT the laundry to be done. Then they charge you exorbitant prices for acting as the middle man. It's very easy to search out laundry services on your own and negotiate a price before the work is done. We did this in Cusco, and our laundress handed us back perfectly washed, dried and folded clothes a few hours after we dropped them off. Compare this to our hotel in Huancayo, where the laundry was sent out not to one, but two different laundry services, and then no one could tell us WHICH laundry services or when we might expect them back.
More adventures in laundry next time! Did Steve and Cindy get their laundry returned? Was it stolen? Sold? Embroidered?
These questions and more will be answered in the next installment of Peru!