Tuesday, October 5th, 2010
By Susan Lyons/Fox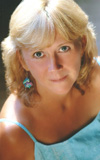 Is it too early to start thinking about Christmas? Not for me, because I have a brand-new release—THE NAUGHTY LIST, Brava's 2010 holiday anthology. This is my first multi-author anthology for Brava—and I'm thrilled to be there alongside stars Donna Kauffman and Cynthia Eden.
When Kensington asked me to be a part of this holiday anthology, I immediately started playing with ideas.
The last Christmas story I wrote, "Unwrap Me" in UNWRAP ME, was set in Vancouver, BC. I live in Vancouver and love it, but we're not exactly known for snowy Christmases. This time, I wanted a holiday story set in snow country.
And the setting was obvious, because I was brainstorming this novella in the build-up to the 2010 Olympics in Whistler. Whistler, when the Olympics aren't happening there, is perhaps an even more intriguing community. It's a small town—yet it's an international resort.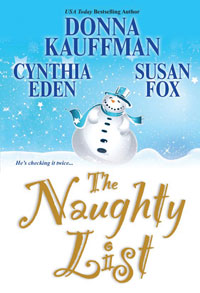 As I started thinking about characters, I realized it was the small town aspect I wanted to focus on. I love "going home" stories, such as "you can never go home again" or "you have to go home again." In "Tattoos and Mistletoe," I chose "you have to go home again." In other words, if you've had a really rotten past, you have to come to terms with it before you can be a truly whole person and move on to build a happy future.
So I found (because characters and I find each other, it's not like I actually "create" them) Charlie Coltrane. The girl from the wrong side of the tracks who…well, I'll let her say it in her own words, if you'll pardon the language.
People had assumed the kid of two loser drunks had to be a loser, too. That gave Charlie two choices: let them know she gave a fuck, or tell them to fuck off. She'd had enough pride that the first choice wasn't an option.
A graffiti artist, arrested, suspended from school, almost raped by her date at the Christmas dance, orphaned at Christmas, then shunned by her remaining relative, no wonder she dropped out of school, left town, and vowed never to return.
Of course, I had to force her back there—courtesy of the aunt who'd shunned her, who at the end of her life was suffering from guilt and, just maybe, the urge to matchmake. How the aunt and I finessed this… Well, let's just say there's one very hot tool-belt guy involved! A guy who just happened to play a role in Charlie's past.
Don't you think high school geeks deserve happy endings? Those genius science nerds whose brains were overdeveloped but who kind of lagged behind in other areas? The ones who had crushes on the very baddest girls—like Charlie Coltrane? Yeah, that's LJ Jacoby, and man, did he grow up fine!
As I had fun getting to know Charlie and LJ and the two of them got to know each other, we all found out that sometimes, if you work through the baggage you've dragged around from your teens, you can envision a brighter future than you'd ever dared dream. Especially if there's a sprinkle of Christmas magic, and a big bunch of mistletoe!
What's your view on baggage from the past? Should a person just toss it off the bridge and forget all about it? Could you do that? Or do you figure that, at some point in a person's life, they're going to have to come to terms with it? And, as a second question, if that one's too heavy for you, when do you think publishers should release their holiday books? Is late September too early?
Someone who comments will receive a copy of  THE NAUGHTY LIST—autographed by all three authors!
***
Please leave a comment to enter to win THE NAUGHTY LIST. If you're reading this blog through a feed at Facebook, Goodreads or another social network, please note you need to leave your comment at www.museinterrupted.com to enter.
To read the back cover blurb for THE NAUGHTY LIST or to read Susan bio, see yesterday's post. Visit Susan's website to learn more about her and her books.