Sunday, March 4th, 2012
The WHERE SHE BELONGS audiobook will release from AudioLark March 20th! Mark your calendars. I have some news I'll announce closer to that date. Let's just say you'll want to visit the blog on March 20th. 😉 And again March 21st.
I have the audio cover and story blurb. They differ from the Five Star Expressions cover and back cover blurb, because Five Star owns the art. So AudioLark produces its own versions.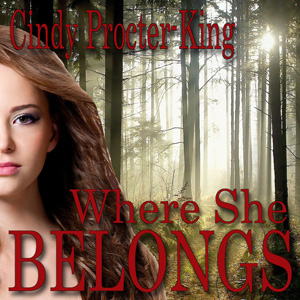 Jess Morgan will never return to Destiny Falls.

Nine years ago, a logging accident near the remote timber town killed her dad and her high school sweetheart. Despite Jess's broken heart, her mother immediately sought comfort with another man. That choice tore Jess apart and drove her to seek a life far away. Now she's successful and happily settled in Toronto.

Or is she?

When her stepfather dies, Jess can no longer stay away from home. Her plan is simple; visit just long enough to persuade her mom to come live with her. Surely healing the rift between them will fill the emptiness she's felt for far too long. But when she lands in Destiny Falls, someone unexpected is waiting for her at the airport.

Adam Wright.

Adam plans to live in Destiny Falls forever. He loves every aspect of small-town living and his job that takes him regularly into the bush. He remembers Jess as a cute teenager who hung around with his little cousin, so when he's asked to pick her up at the local airport, he's not prepared for the polished woman who steps off the plane.

Soon Adam's happiness is more wrapped up in Jess than his home or work, but while he could give up everything and move back to Toronto with her, he senses that won't make either of them happy. How can he get her to give Destiny Falls a second chance?

It will take a combined effort from everyone in town who loves Jess Morgan, plus a little charm from the local landscape itself, to convince her to rethink her future plans.
The audiobook will be available not only on the AudioLark website, but on Audible, iTunes and Overdrive. I'm very excited that there won't be a lag time with the third-party distributors with this audiobook!
I have other news, this time regarding BORROWING ALEX, but I'm holding off on announcing it until I receive a certain something in the mail. I've been sitting on this news forever. If I don't announce this week, I'm hoping I can announce next week. We'll see.
So…blog lurkers…what's up in your neck of the woods?