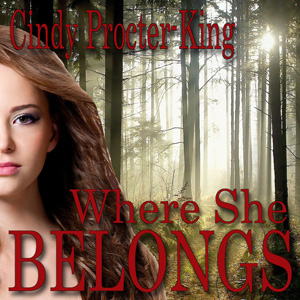 The audiobook of WHERE SHE BELONGS releases today from AudioLark and is available from the AudioLark website as well as Audible, iTunes and Overdrive (fine print – I don't know if it's available from the third party distributors TODAY or in a few days, but I will update this post with links as I find out.)
But wait!
I'm celebrating by giving away a copy of the audiobook (8 hours and 6 minutes of listening pleasure). All you have to do is leave a comment for this post and you're entered. Entries will be accepted until midnight tonight. You can listen to a short demo at the AudioLark website. Sooner or later I'll get around to posting the demo to my website, but not today—I'm too busy celebrating!
Tomorrow morning, I'll choose a winner through computer-generated random draw and contact the lucky person by email with instructions for how to download the book. Don't worry about leaving your email address in the comments section. I'm the only person with access to the comments and email addresses on my dashboard, and I do not harvest email addresses for newsletters or whatever other drivel I might wish to foist upon you (but I'm Canadian, so I won't and don't). If you want to sign up for my newsletter, you gotta do it yourself (easy-peasy link on my Contact page).
Also, please note that only comments left at Muse Interrupted (ie. my blog) qualify as entries for the audiobook give-away. If you're reading this post through a feed at Facebook, Amazon, Goodreads, Twitter or another social network, please note that you need to leave your comment on my blog to enter.
If you want to read the story blurb, check out this post.
Print excerpts can be found here, here, here and here. I'm nothing if not generous in the excerpts department!
Thank you for your support and good luck!