I am keeping good on my New Year's Resolutions and returning to the Galapagos posts! The day this post appears, I'm having touch-up laser eye surgery in my right eye, the distance eye. The left eye turned out wonderbar last year, but the right eye, she is stubborn. So I wrote this post ahead of time, and, if you're lucky, I wrote the next post ahead of time, too. So even if I can't see in a few days, hopefully YOU will be able to read another lovely Galapagos post.
Here's the last post, written way back in November (Cindy's bad!). If you're into self-torture, or you're super interested in visiting the Galapagos yourself, here's the first post of our trip, which occurred back in April/May of 2012. Hey, I didn't procrastinate. I had things to do. Like eat salt 'n vinegar chips.
Ecuador Trip: Day 16
 
Galapagos Cruise: Day 11
Day 15 found us on Santa Fe Island. For days 16 and 17 (days 11 and 12 of the cruise), the Cormorant itinerary focused on San Cristobal Island and the gorgeous Kicker Rock. Here's a view of Kicker Rock as we passed it on the way to Witch Hill. I swear, I could go back to the Galapagos again just to catch another view of this geological marvel.
At Witch Hill, we frolicked in the water, doing handstands (not me, but another of our party), trying to stand on our husband's shoulders (have I ever mentioned my lousy sense of balance?) and talking to other travelers on the beach. In fact, we thought this was the entire reason we had come to Witch Hill. To take pictures of Kicker Rock in the distance, frolic in the water, and capture guys like this on film:
You'd think photographing iguanas would get tiring, but it doesn't.
Here's a view from the beach of Witch Hill, which our guide told us was also called "Witch's Hat," but wouldn't tell us why: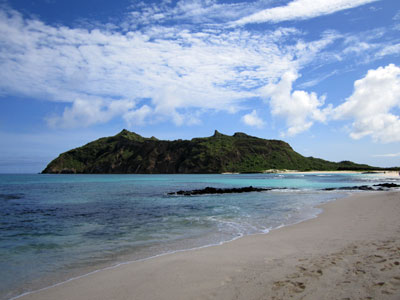 Harry said we would find out more about Witch Hill on our return to the Cormorant. So, after enjoying one of the best swimming days on the cruise (during which we met a couple from our home province who knew "of" my BFF—small world), we cobbled into the two pangas and headed back to the boat. The pangas took us very close to Witch Hill:
I almost shouldn't explain what happened next, because, if you go to Witch Hill, I'm ruining the surprise. If you don't want the surprise ruined, stop reading this post right now. Go and buy one of my books or something. (How crass. I swear, it wasn't me who typed that. It was the Ghost of Witch Hill!)
Can't tear yourself away, huh? Just gotta know more about Witch Hill? Well, my photography skills might disappoint. Okay…I don't think it's MY photography skills in particular that will disappoint, because I don't remember (dum-de-dum) if I had my camera with me this morning. I thought all we were going to do was swim. Thank God other cruisers had their cameras, and I can bum one of their pictures. Note, I am only bumming a picture off the Group of Four.
The first cave we floated into was this one:
I don't have a photo of The Cathedral, which was the second cave we visited, but it was even more awe-inspiring, if possible, than the cave above. The Cathedral cave featured a "ceiling," and could best be viewed by reclining on the other passengers in the panga and staring straight up. You don't want to see a picture of my thigh with a big bruise (no idea where I acquired it), my bathing suit cover-up and my hat as I'm lying flat on another passenger and she's trying not to topple our guide into the water, do you? Of course not. Doesn't sound very pleasant at all.
I would show you the photo, but it doesn't picture the actual cathedral ceiling and it also shows the face of another passenger, not one of the Group of Four. I'm too lazy to email her and ask her permission to post it, so we're stopping with the caves right here.
See, I don't necessarily have to ruin surprises! All you need to know is that you DO want to go swimming at the beach near Witch Hill and you DO want your guide to take you into the caves afterward. You don't want him to ruin the surprise by telling you about it first, either. Experiencing the surprise is half the fun.
So, we returned to the boat and then I had to make a big decision. If you went back and read Day 15, you'd know that my seasickness had returned. As much as I love snorkeling, it was time for me to take a day off and just lounge in the sun on the upper deck and wait for my seasickness patches to take effect again. I needed to decide, should I go snorkeling at some small rock I can't remember the name of or wait until the next day, when I might be feeling better, and go snorkeling around Kicker Rock?
I asked Harry, our guide. The conversation went something like this:
Me: "Harry, I feel like crap, and I need a day off of snorkeling before sea water starts leaking out my pores. Should I not snorkel today or not snorkel tomorrow? I'm thinking I should miss today." (I mean, who would want to miss snorkeling at Kicker Rock?)
Harry: "Welllllllll, if you have to choose, remember, I can't choose for you, but I might, maybe, if I were going to suggest a day to miss, which I wouldn't suggest, because we just never know what we're going to see or what visibility will be like until we get there, I might maybe, perhaps, on the off-chance, recommend that you miss today and don't miss Kicker Rock."
Me: "I kind of feel like you're telling me to miss today."
Harry: "I would never do such a thing. You should come both days."
Me: "I might throw up in my snorkel mask."
Harry: "All right, you are probably correct that you should miss today."
Me: "And go instead tomorrow? I shouldn't miss Kicker Rock, right?"
Harry: "No one should ever miss Kicker Rock."
Me: "Will you promise me good visibility tomorrow?"
Harry: "I do not promise anything."
Me: "Will you promise me sea turtles?"
Harry: "I can not promise sea turtles. I can not promise sea lions. I can not promise rays. I can not promise hammerhead sharks."
Me: "Can you promise rock?"
Harry: "I can not promise anything."
Me: "Can you promise ocean?"
Harry: "I can not promise annnnnnnnyyyyyyyyyything."
Me: "Can you promise that you won't promise anything?"
Harry: "No, not even that."
That Harry, not promising the ocean!
Based on our conversation, I did not go snorkeling on Day 16. I would save myself for the following day, Kicker Rock, which, we were told, if visibility is good, is absolutely amazing snorkeling (you can almost feel the punch line coming, can't you? But you have to wait for my Kicker Rock post).
Although I did not go snorkeling after swimming at the beaches near Witch Hill, I wanted to take pictures of my SIL and BIL getting ready. Alas, I was so groggy from seasickness (and someone had stolen my hat, which escaped my notice, even though it was on his head), that I totally forgot to get pictures of Harry and my relatives getting ready for the snorkel until I heard the panga driving away! Ack!
Luckily, I had my camera with me on deck. So I raced (without barfing) to the railing and snapped this photo of the lonely only panga heading off for what was supposed to be the second choice of snorkel days:
So of COURSE when the boat returns, my BIL and SIL had had the time of their lives! My husband had stayed back with me, and meanwhile they saw rays:
And they saw sea lions! Tons and tons of frolicking sea lions! Sob…
It was one of the best snorkel days of our entire two weeks on the cruise, I was told.
I swore never to miss another snorkel opportunity on the trip, and I didn't.
I wish I could remember the name of the little island, but, alas, my nausea prevented me from writing it down (or looking it up right now).
All I can tell you is that you don't want to miss Witch Hill. And you don't want to miss snorkeling at the little nameless island afterward. No matter how soggy and full of sea water you are.
I promise you that.