Welcome back to another installment of Tuesday Deals. This week we have perma-free, perma-99-cent, and ebooks on sale for 99 cents for a limited time—three novels and one short story in total. Please remember to check the prices before downloading or purchasing.
Happy reading!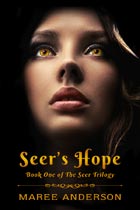 My first featured Deal is Maree Anderson's SEER'S HOPE, a fantasy novel with romantic elements. SEER'S HOPE is permanently FREE on Amazon, Canadian Amazon, Kobo, Barnes and Noble, Apple, ARe, and Smashwords. For other venues, please check Maree's website.
Hope is snatched from her home and transported to a primitive world of magic and capricious gods. The Dayamari people believe she's a Seer and their only hope of salvation, but she's blind—she can't see anything at all, let alone the future. She must accept her destiny and learn to wield the awe-inspiring powers the gods have bestowed upon her. And if she's to save those she loves from the horrifying evil that lurks in the darkness, failure is not an option.
FREE on Amazon, Canadian Amazon, Kobo, Barnes and Noble, Apple, ARe, and Smashwords! Also check for it at your favorite e-tailer around the world!
~*~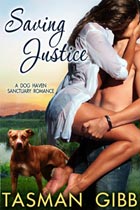 Tasman Gibb's Contemporary Romance, SAVING JUSTICE, regularly priced $2.99 is on sale for 99 cents until August 15th at Amazon, Canadian Amazon, Kobo, and Barnes and Noble.
Marlo Croft, canine behaviorist at the Dog Haven Sanctuary in Halo Peak, Washington, has her life neatly organized. The trauma of her past is well buried, her emotions tamped down, and rehabilitating and rehoming damaged and unwanted dogs gives her the focused, contained life that makes her feel secure.
The arrival of a new rescue dog, Justice, also brings the unwelcome distraction of a handsome stranger who is to shadow Marlo and Justice through the dog's rehabilitation.
Suffering guilt over the death of his wife, New Zealander Adam Guildford's short contract in the US to research dog fighting is what he hopes will pull him out of the limbo he has floundered in for the past four years. He arrives prepared to tackle the emotional and behavioral needs of the rescued dogs, but completely unprepared for the way his presence unnerves Marlo and awakens his own dormant feelings.
As they start to gain Justice's trust, Marlo loosens her grip on her inner fears and the simmering attraction between her and Adam heats up. Adam works carefully to dismantle the emotional barricades Marlo erected, until one day he unwittingly delivers the horror from Marlo's past straight to her doorstep, an action that tears the three of them apart.
On sale for 99 cents until August 15th at Amazon, Canadian Amazon, Kobo, and Barnes and Noble!
~*~
Nikki Lynn Barrett's Contemporary Romance (novel length), BABY STETSON (Love and Music in Texas, Book 1), is also on sale for 99 cents—until August 1st. BABY STETSON is regularly priced at $3.99 but can be found now for $.99 on Amazon, Canadian Amazon, Kobo, and Barnes and Noble.
In small Texas towns, strangers come and go…
Left in a Stetson hat, on the steps of the local bed and breakfast, Avery Callimer came into the world on a wing and a prayer. Raised by loving adoptive parents, she's never lacked for love … only the knowledge of her past.
By day she works at the inn, but by night … Avery comes alive as lead singer in a band. Life was good … stable, until new guests blew into town.
Some strangers come with secrets and lies.
Lucas Bennett is one such stranger. Drifting from one mess to another has left him jaded. Doesn't matter the dramas are never his doing. Giving it one last shot to make a fresh start lands him Harmony's Echo, Texas and smack dab in front of the tantalizing Avery.
Despite his best efforts to ignore the burn Avery's ignited within, he's intent to keep his distance. Secrets have followed him. Secrets he doesn't want Avery to know.
Each time they're near the other, things heat up like a brushfire on a dry Texas prairie.
But maybe, after the dust settles and the smoke clears, love can bloom with a fresh start.
On sale for $.99 until August 1st at Amazon, Canadian Amazon, Kobo, and Barnes and Noble.
 ~*~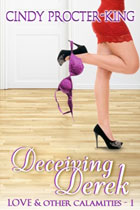 My son got married this past week, so I didn't have time to round up a fourth Tuesday Deal. Never fear, I have one of my own available! My romantic comedy short story, Deceiving Derek, is always priced at 99 cents and can be found on Amazon, Canadian Amazon, Barnes and Noble, Kobo, Apple iTunes, Smashwords and ARe. If you're in the UK or shop at other Amazons or Kobos or iTunes stores around the world, you should also be able to find it there.
Sassy Shorts! Fun, Quick Reads. Deceiving Derek, LOVE & OTHER CALAMITIES, Story 1.
Lingerie designer Lacey DeMarco livens up her life by finagling an unsuspecting police detective into attending a funky bridal shower. She needs one last item to complete a scavenger hunt list, and handsome cop Derek McAllister is it.
But a little trickery is at work. Both Lacey and Derek are both being hoodwinked…in the name of love.
Deceiving Derek is a romantic comedy short story of 5200 words, or approximately 12 typical book pages. Deceiving Derek is the first of five connected short stories, each featuring a heroine introduced in Lacey's story. Follow Lacey and her girlfriends as they prepare for a wedding and find true love along the way.
Perma-99-cents on Amazon, Canadian Amazon, Kobo, Barnes and Noble, Apple, Smashwords, and ARe.