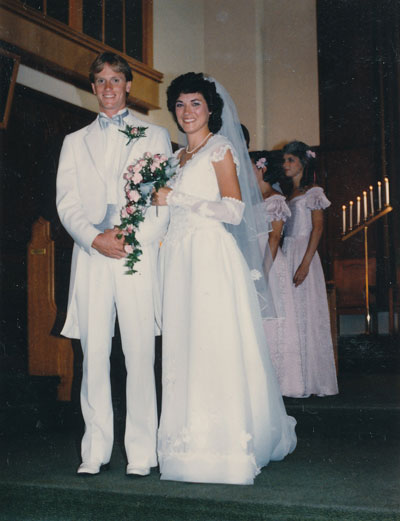 Why I Write Romance:
My husband is an alpha male.

I'm somewhere between a beta and and an alpha female. In other words, not a doormat, but of course very considerate.
That makes for lots of conflict, but not so much that we can't work it out.
it also makes for lots of chemistry.
We met when I was eighteen, and I didn't do a lot of dating beforehand. Writing romance gives me a chance to date other men! (Okay, they're fictional).
Writing romance reminds me, over and over, what it feels like to fall in love.
I believe in happy endings. After all, I've lived one.
I didn't crop this photo too closely, because I cherish the view of the inside of this church. We were one of the last couples married in this particular church. Several weeks after our wedding, a troubled teenager set fire to the altar, and the entire church burned to the ground. A little strip mall now stands in its place. Because we'd moved to another town (the town that Destiny Falls in WHERE SHE BELONGS is based on) immediately following the wedding, we didn't get a chance to visit the church where we were married ever again. Although, we rented many movies from the video store that opened up there afterward.

The fifth story in my romantic comedy short story series, LOVE & OTHER CALAMITIES (currently comprised of the first two stories, Deceiving Derek and Catching Claire), which I promise I will write in the next several months along with stories 3 and 4, features a couple on the verge of getting married. Guess what's going to happen to their church?