Q: If that wolf knew what was good for him, he took off! Deni, aAre Five Star/Cengage books only available in libraries? Are the books published in formats other than library hardcover? How about ebooks?
A: Although Five Star's focus is library sales, their books are available—through Ingram and other distributors—at all bookstores. Also, on-line through Amazon, B&N.com, et al. The thing to remember is that books don't hit the stores or libraries on the actual pub date. That's the date books are shipped out. An author has the option of putting his/her book at, say, Kindle, or having Five Star format the book for digital venues. Five Star is also planning to initiate Trade paperback editions for the retail trade.
Q: Are you accepting romantic suspense and mystery romance submissions for Five Star Mystery?
A: Yes, we accept romantic suspense and mystery-romance, as long as the emphasis is on the suspense/mystery. As author Mary Ellen Dennis, I write what I call "history-mystery-romance" novels. An example is THE GREATEST LOVE ON EARTH, which revolves around 18th-Century circus.
Q: So you're an author as well as an editor. You're busy! Deni, how will Five Star Mystery books

with a romantic element differ from those that would have previously been published under the Five Star Expressions imprint? Do you have a romance-to-mystery/suspense ratio or does it depend on the book and author?
A: We have no "official" romance-to-mystery/suspense ratio. But as a crime fiction author since 1992, I know my audience. If there's too much romance, the book won't fly. If the romance is integral to the plot, the book will have wings as well as legs. Example: I was 50,000 words into a new Mary Ellen Dennis historical romance, The Midnight Bridge, when the Expressions line went belly-up. "Bridge" even has my favorite opening lines: "The solicitor smelled a rat. Twenty minutes later he didn't smell anything at all." Five Star said they'd consider Midnight Bridge for their mystery line. I thought about it, and decided that I, as an acquiring editor, would turn it down. The ratio was askew—more romance than mystery. So I guess what I'm saying is that I'll know if the ratio works, and every submission comes to me first, before it's reviewed for publication.
Q: Interesting, because you're coming at it from an editor's AND an author's perspective. Now, T.V. and movies often make the lives of editors, agents, and authors look very glamorous. You know, it's the author's first book, she has a massive launch party, and her editor and agent both fly out to attend. The editor gets her nails done and solves a murder between cocktails. What's your job really like?
A: Every once in a while I get my nails done.
Q: You're a step ahead of me, then. I can't remember the last time I got my nails done. Probably a birthday or Christmas gift. Deni, what's the best part of your job? The worst?
A: The best part is "paying it forward." So many people helped me, so it is my great pleasure—and biggest joy—to find new authors. The worst part of my job is trying to explain why a manuscript gets rejected. I suggested one writer "show" not "tell," and gave him some examples from his manuscript. He resubmitted one day later and said he had "taken care of the problem." He hadn't, and there are simply not enough hours in the day (and night) to teach beginning writers how to write.
Q: Do you have any pet peeves or stoppers in queries, partials, and synopses? How about when reading full manuscripts?
A: Since everything is submitted electronically, a query that includes the first chapter in the body of the email is a major no-no. It's useless to attach a manuscript or partial (lots of writers take it for granted that I want to read their first 3 chapters) since Five Star has strict formatting guidelines. Telling me you won't format your book until it's contracted (as 2 writers recently did) is an automatic rejection. When I ask for a one-page synopsis, I don't want a 5 or 10 page synopsis. Submitters insist on starting their new chapters a third of the way—or half-way—down the page, and/or underlining italics because "it's always been done that way." I want the new chapter to start at the top of the page (after a page break) and I want italics, not underlining. I don't accept partials, never ask for three chapters, and, truthfully, I don't understand editors who do. When it comes to electronic submission, it's a total waste of time. If the book looks interesting, it takes time to ask for a full manuscript. If the opening chapters won't fly, all I need do is hit my delete key.
My peeves for full manuscripts would take more than a single interview. With few exceptions, starting with a "weather report" will turn me off immediately. Same for a description of the scenery. Same for opening Chapter One with an emergency phone call (again, let me say that there are exceptions). I don't like forewarnings ("If he had only know she'd be dead in an hour, he would have kissed her goodbye"), and I don't care for travelogues ("She drove down highway 140, took the Duma Key exit, turned right on Stephen King Lane, then left on 39th Ave…"). I practically scream aloud when the character is TSTL (Too Stupid To Live). Examples: A heroine who agrees to come alone to meet someone at midnight in a deserted graveyard or shopping mall, or the protagonist who hears a noise in the basement and decides to check it out, minus—at the very least—a semi-automatic and/or trusty rottweiler.
Q: Right, got it. Rottweiler, check. Semi-automatic, check. Stupid genes...leave at home.
Do you have time to read for pleasure, Deni? Describe the books on your nightstand.
A: I make time to read for pleasure. Right now I'm reading Lisa Gardner, one of my favourite authors. I also enjoy Hank Phillipi Ryan's series (and she has a stand-alone due soon). Carol O'Connell is a "must buy as soon as a new Mallory book comes out
Q: We've established that you're a multi-published author as well as being as an editor. Tell us about your writing.
A: I have two personas: Denise Dietz, who writes crime fiction, and Mary Ellen Dennis, who writes historical fiction. Deni is kind of goofy, Mary Ellen very serious, especially when it comes to her writing. Deni's mysteries have no socially redeeming values whatsoever; they are written to entertain. Mary Ellen addresses "issues," and she is over-the-moon about the publication of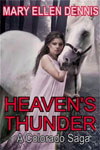 HEAVEN'S THUNDER – A COLORADO SAGA, which came out in hardcover and will soon be available at Kindle. The title is from a line in one of Shakespeare's sonnets, and the saga encompasses the Cripple Creek gold rush, and the Ludlow Massacre, with an emphasis on Colorado's silent film industry. If you go to Mary Ellen's website -- www.maryellendennis.com -- you can read more about the novel. HEAVEN'S THUNDER has been compared to John Jakes' North and South, Larry McMurtry's Lonesome Dove, Barbara Taylor Bradford's A Woman of Substance, and The Thorn Birds.
Q: Do your editor and author worlds ever collide? How hard/easy is it to transition from one world to the other and back again?
A: My editor/author worlds never collide. I love both careers.
Q: I don't know where you get the energy! Can I ask, where do you see publishing headed in the next five years?
A: Without a single doubt, e-books. I contracted one of my mystery novels, FOOTPRINTS IN THE

BUTTER – an Ingrid Beaumont Mystery costarring Hitchcock the Dog – to an ebook publisher in the 90s, before people even knew what an e-book was, and those who did called it a fad and said it would never last! FOOTPRINTS IN THE BUTTER was then picked up by a hardcover publisher. Reviewed favorable, it had excellent sales and made some bestseller lists. Then it was published in paperback by Harlequin Worldwide. Then Thorndike (US) and BBC Library (UK) put out large-print editions. And now the book has come full circle, available as an e-book again.
Q: I find it very interesting how epublishing is finally growing in leaps and bounds. Now, I'll ask you to put on your editor's hat again. How should an author interested in submitting to Five Star Mystery query you?
A: Send an email query to [email protected] and please include the book's title, the sub-genre (hard-boiled, amateur sleuth, medical thriller, etc), the word count, and repeat your email address in the body of the email. I will only consider completed books and will not look at simultaneous submissions. Unless I am out of town, I answer queries within one week.
Q: Is there anything else you'd like to add?
A: Yes. Somewhere on your toolbar should be a ¶ icon, with a hidden label saying Show/Hide. Turning it "on" will reveal your paragraph markers, the spacing between characters, words and sentences, tab markers if you've used tabs…stuff like that. When you proof your manuscript before submission, you want it ON.
But if you don't have it, try this: At the end of your toolbar should be a little down-pointing arrow, and if you put your cursor on it, a label saying Toolbar Options should come up. Click on it, and you should be shown an Add or Remove Buttons option, which should lead you to a Standard option, which should lead you to a whacking great long list of possibilities. The one you want is Show All and looks like this: ¶. Make sure it is ticked, and it should come up on your toolbar.
Finally, I often give workshops on self-editing, so here are some self-editing hints: If your character is named John, do a search-and-replace and change it to Bruce. When you proof your chapter (or book), "Bruce" will leap out at you and at least 50% of the time it can and should be "he" or "him" (I do this for all my books). Please remember that the red squiggles under a word mean something. If you've used a weird name or a weird place, or even a made-up, wonky word, put those names, places, wonky words in your toolbar dictionary. And if you turn your spell-check off, as some submitters do, and if I find typos, you're toast! Why submit a manuscript that is less than professional, eh?
Q: Thanks for the tips! And for the interview, Deni. Best of luck with both your editing and writing careers!
© Cindy Procter-King, January 2011. Updated June 2012.