Author Beth Kery is hosting a 2-week multi-author book give-away to celebrate the release of SILKEN RAPTURE, her November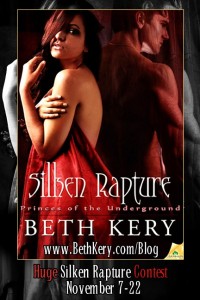 22nd release from Samhain Publishing. The contest actually started November 4th, but it's not too late to start entering. Each day a guest blogger visits Beth's blog and will give away a download of one of her books. Samhain author Kate St. James, who appeared on my blog two days ago, is today giving away a free download of A LITTLE WILD over at Beth Kery's blog. You have to post THERE to enter, not here. Once there, make sure to scroll down to Kate's blog entry to enter to win the download of A LITTLE WILD.
All the information about Beth's contest can be found at this link. Authors scheduled to blog and give away books from now until November 22nd are:
Kate St. James – November 10th
Kelly Jamieson – November 11th
Natasha Moore – November 14th
Vivian Arend – November 15th
Vanessa Jaye – November 16th
Missy Jane – November 17th
Jodi Redford – November 18th
Lilli Feisty – November 21st
Beth Kery – November 22nd
If you've read this far, the super cool news is that Beth is giving away a Kindle Touch 3-G on November 23rd. To win the Kindle Touch 3-G, Beth says,
A winner will be randomly chosen from a pool of entrants on November 23. The winner must claim their prize, so it is important to come back and check the announcement!
So don't forget that part.
Happy entering!