Tuesday, July 30th, 2013
Time for another Tuesday Deals! This week I'm featuring a YA on sale for 99 cents, a sweet historical romance, and two perma-free ebooks!
Please remember to double-check the pricing at your e-retailer of choice before downloading or purchasing. If you click a link to Amazon Canada, a book on sale at the American site for 99 cents won't necessarily be 99 cents at Amazon.ca. It might be .98 or $1.01, depending on the exchange rate at the time. I don't list other Amazon sites or the post would get too long, but if the book is on sale or free at a main venue, check your country's e-store to see if you can get it free or for the equivalent of $.99 USD there!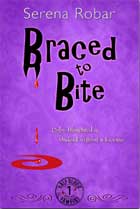 First up is BRACED TO BITE, Serena Robar's first book in her funny vampire YA series. Regularly priced at $3.99, BRACED TO BITE is only 99 cents until July 31st. Today's July 30th, so get it while it's $.99! Available on Amazon, Amazon Canada, Barnes and Noble, Kobo and Smashwords.
Colby Blanchard had it all…
Head cheerleader. Popular friends. Hottest date and a no-brainer for Homecoming Court. Colby's got a nearly-perfect life – ask anybody.
… until she gets bit.
Some random vamp gets his fangs into her, and suddenly everything's different. She's different. To make matters worse, she's only a half-blood vampire, not a full one. Now, instead of Homecoming Queen who rules the school, she's a mongrel of the vampire community – and they're giving her just one week to justify her existence, or they'll "relieve her of her undead status". She gets the feeling that doesn't mean just kicking her out of their clique.
And she thought getting into college was going to be her biggest problem.
With the clock ticking, Colby has to prove herself by finding the Rogue Vampire who tried to turn her. Colby discovers some hidden strengths, and some unlikely allies – including Thomas, a Vampire Investigator who would be really hot if he weren't the guy most likely to kill her when her number's up. As she digs she uncovers a conspiracy, and is offered a deal: her life, or the lives of all the half-blood vampires.
Does she cut the deal, to get back all she lost? Or does she stand for the mongrels she's accidentally joined?
$.99 until July 31st at Amazon, Amazon.ca, Barnes and Noble, Kobo, and Smashwords!
~*~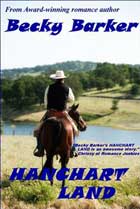 Next, Becky Barker's permanently free contemporary western romance novel, HANCHART LAND, previously priced at $3.99. Find it at Amazon, Amazon.ca, Barnes and Noble, Kobo, and Smashwords.
Luke Hanchart proposed a marriage-of-convenience to Susan, his cousin's widow, to protect his family's ranch. Little did he know that saying "I do," would open the door to a tempestuous future. Now nothing stood in the way of a passion that had smoldered between them. As they sealed their union with a kiss, a spark ignited and began to burn.
Perma-free at Amazon, Amazon Canada, Barnes and Noble, Kobo, and Smashwords.
~*~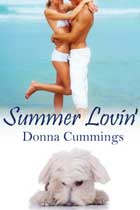 Another freebie, the contemporary romance novella, SUMMER LOVIN', by Donna Cummings. Find it at Amazon, Canadian Amazon, Kobo, Barnes and Noble, and iTunes. Check out UK Amazon, too!
Everyone should have at least one wild fling on their resume. Mia volunteers to dog-sit for two weeks, giving her a chance to figure out the next step in her life, and career. She discovers it's not easy chasing after a puppy with a shoe fetish, but there's a reward for all her troubles: the hunky guy next door. Luke is a workaholic forced to take two weeks' vacation, and at first he's sure the downtime might kill him. But then he gets to know his temporary neighbor. She's sexy and fun, and all of a sudden, two weeks isn't nearly enough time.
FREE at Amazon, Canadian Amazon, Kobo, Barnes and Noble, and iTunes.
~*~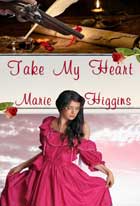 Wrapping up, Marie Higgins's sweet historical romance novel, TAKE MY HEART, regularly priced at $3.99 is now $.99 until August 22nd on Amazon. Also check Amazon.ca.
Mercedes Maxwell is devastated when her twin sister is driven to take her own life by none other than her husband, William Braxton. Determined to make her brother-in-law pay for the injustice, Mercedes travels to Philadelphia to find him. She is shocked to find that William is unaware of his wife's death, and when Mercedes is mistaken for her sister, she decides to pose as her twin to glean some answers. Mercedes embarks on an adventure she never dreamed of in hopes of bringing justice to her sister. Instead of justice, Mercedes uncovers a plethora of secrets and mystery. As she works to unravel the mystery and discover who she can trust, Mercedes finds that all is not as it seems, and that William Braxton may be the one man she can trust.
99 cents for a limited time on Amazon and Amazon.ca!
More Tuesday Deals next week!