Tuesday, September 27th, 2011
A few posts back I said I'd give an update on my shoulder condition and my quest for the perfect keyboard. First, I'm not convinced there is such a thing as a perfect keyboard, because to make it truly perfect it would have to be custom made to your specifications. However, I am very happy to report that I am making progress with my rotator cuff injury and have found a keyboard/mouse combination that seems to work for me. I have had both installed for about a week. I am still attending massage therapy once a week, and I still can't undo my bra behind my back (when I can do that again, I'll know I'm healed), but I am no longer attending physiotherapy AND massage once a week. I am doing exercises to strengthen the supraspinatus muscle up the whazoo. If you check out the link, that's the muscle responsible for lifting and the one in which I received a cortisone shot several weeks ago. I also learned I had what they call a cortisone flare, which is why I was in such pain for two days.
The keyboard that seems to be working for me is the Kinesis Freestyle keyboard with the VIP attachment. Here are a couple of photos from their website. The Freestyle Solo is the basic keyboard, and there are a number of ways you can adapt it (check out the website for more information). Basically, it comes in two pieces that you can arrange in the split design to suit your needs. It doesn't have a number key pad on the right. There are still numbers on the top set of keys and there is a number key pad of sorts that you can access under the U, I, O letters and so forth, on the right hand side of the keyboard. You just have to hit the function key first. Take a look: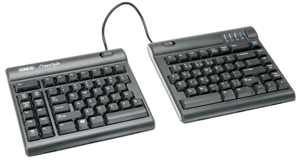 The advantage to not having an embedded number key pad is that: (1) I rarely use it because I rarely input data, so I don't miss it, and (2) it helps with my mouse overreach issue, because with my traditional Microsoft ergonomic keyboard I had to reach OVER the number key pad to reach my mouse, which was on a little drawer that pulled out to the right of my keyboard drawer. Now, my mouse, which is a Logitech wireless trackball, sits just to the right of the keyboard, on the same shelf AS the keyboard, which is a lot better for my right shoulder.
I'm the sort who needs wrist pads, so I ordered the Freestyle VIP attachment. Here's a photo, although not set up the way I have it. This photo is showing the maximum splay of 15 degrees: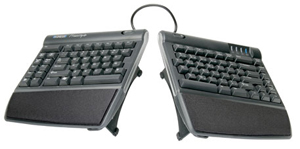 I have the wrist pads attached and I have the legs on the back, but I only have them set up to 10 degrees, which works for me. My two keyboard halves are also attached at top (the tether you see there allows people to set up the keyboard in a variety of ways).
I'm pretty happy with the Logitech wireless trackball, too. The wireless receiver is super tiny, because it's a trackball, I use my thumb instead of my finger, and because it's a trackball I don't have to move the unit around like I did with a traditional mouse. The only thing I'm missing is a little wrist pad, because I'm so used to having wrist pads and I really like them. I'll have to pick one up for the mouse.
This system is good for me because I can work with a lot less discomfort. The trackball is a little tricky to get used to, but I can't go back to a regular mouse so I'm giving it a good shot. At first it was really weird to use my thumb to move the ball, but I'm getting more accustomed to it.
Do you have ergonomic issues? What's the best set-up for you?