Friday, March 16th, 2018
I recently returned from a week's visit to Palm Springs with my husband. This gave me a great chance to see where my parents spend their winters. My first time in Palm Springs, and I loved it. Palm Springs has a great, laid-back vibe, and, well, it kinda reminded me of Fred Flintstone's Bedrock City. I wouldn't be surprised to learn that Bedrock City is based on Palm Springs (I shall have to google that and see if I'm right).
We had some "bad weather" (aka clouds) while there, but still plenty of pool time. Had a chance to visit the zoo and also ride the Aerial Tram. Here's a shot of me with my Dad at the top of the tram.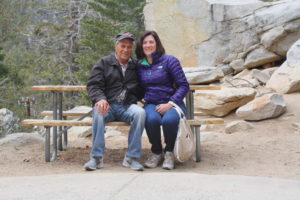 Here's another of my husband playing with the big rocks: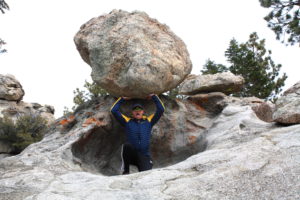 And me, afraid of slipping down the slope, so this is as far as I got: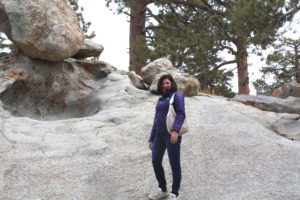 I usually post photos on Instagram, Twitter, or Facebook. I'm trying to get better at doing it here.
Did you have a chance to take a break somewhere warm this winter? I'm now back to snow, which thankfully is finally melting (slowly…so slow…ly…).