Saturday, June 29th, 2013
I am loving the promotion for HEAD OVER HEELS via Ereader News Today! Yesterday, my little book hit #29 in Kindle Paid Romantic Comedy Bestsellers! I think the Romantic Comedy category is fairly new for Amazon, but I'm not sure. I can't remember seeing it when I was scouring the lists during the rise of WHERE SHE BELONGS back in early February. But then WSB isn't a romcom.
I didn't think HEAD OVER HEELS could climb any higher. This was my first time with an ENT promotion, and other experiments with advertising this spring haven't proven anywhere near as effective. But ENT rocks! Finally, the "little book that could", as I like to call it, is gaining some traction, temporary though it might be.
Then I woke up this morning to discover that HEAD OVER HEELS is 841 in the Kindle Paid store overall—a far way from the top 100, but I never expected to crack the top 1000 with this promotion, so I am thrilled! Not only but, but HEAD OVER HEELS is #13 right now in Romantic Comedy, #93 in Women's Fiction, and #98 in Contemporary Women. Cracking the top 100 in Contemporary Romance is my next obvious goal, but if the book doesn't make it, I am totally stoked that it's done as well as it has! Number 13 in Romantic Comedy—whoot!
Here's the screen shot: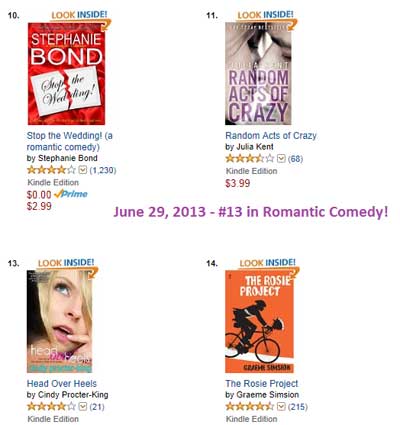 Look at me sharing shelf space with Stephanie Bond!
If you're interested in buying a copy at the limited time sale price of 99 cents –> click here.