Monday, November 28th, 2011
Like many of you, I'm busy surfing the web trying to find the perfect gifts for the nice (and naughty) people on my lists. And it occurred to me that the romance readers among you (or those who need to buy a gift for someone who loves romance novels) might want to do it up Cyber Monday Cindy-Style. How, you ask? By pre-ordering WHERE SHE BELONGS. If you're looking for a contemporary romance to give as a gift and have been keeping WHERE SHE BELONGS in mind (my 2007 Golden Heart finalist book set in a fictional version of a tiny British Columbia logging town where I lived for five years), please note that the Five Star/Cengage/Gale warehouse doesn't begin shipping the book until December 16th. Pre-orders placed on Amazon, Canadian Amazon, or Barnes and Noble are sometimes the first to get shipped. I have pre-ordered books on Amazon that have arrived the DAY of the release date.
Sounds pretty good, huh?
Cover and back cover blurb to entice you: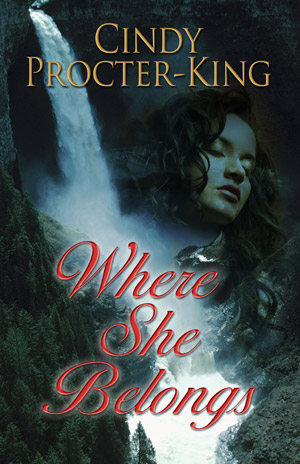 She never wants to go home again.
For Jess Morgan, Destiny Falls holds too many painful memories. Nine years ago, a logging accident near the remote timber town killed her dad and her high school sweetheart. Despite Jess's broken heart, her mother immediately sought comfort with another man. That choice tore Jess apart and drove her to seek a life far away. But now fate steps in, and family obligations force her return home. Before long, she's convinced that persuading her mom to live with her in Toronto will repair their bond and Jess's own sense of belonging. However, she doesn't count on a long-ago friend re-entering her life and challenging those same convictions.

Rugged forester Adam Wright believes in family, roots, and not running from heartache. Now, all he wants is to help Jess break down the walls of the lonely sanctuary she's built for herself and heal her past hurts. But it's not until she rejects his proposal that Adam realizes his dogged persistence has pushed her even further away—not at all what he intended. Has he lost his chance? Or can he convince Jess that where she truly belongs is with him…forever?
Reviews are starting to come in! For the first time ever, one of my books was reviewed in Publisher's Weekly. PW says, "Procter-King gives her characters realistic conflicts."
From Booklist: "The latest from Procter-King, a Golden Heart finalist and author of Borrowing Alex (2007), is a sentimental novel about love, grief, and coming home again. Jess is a sympathetic protagonist who learns the well-worn lesson that home is with the people you love."
Perhaps my favorite so far, from Fresh Fiction: "WHERE SHE BELONGS is a very emotional and heartfelt story of  broken relationships and painful memories.  Finding where  she truly belongs is a heartwarming lesson for Jess in  revealing the true meaning of love and the ability to  forgive.  The story is very well written and the passion as  well as pain the characters feel is clearly felt by the  reader.  I thoroughly enjoyed this beautiful story of love  and finding oneself in the process."
An excerpt can be read on the Fresh Fiction site or on my Books page.
Want those pre-order links again? I am nothing if not obliging.
Warm up your Winter with a contemporary romance from Cindy Procter-King! (Just thought that up. I think I like it).
Pre-Orders can be taken up until December 15th, but the earlier the ordered, the better the chance of receiving the books before December 25th.