Thursday, October 30th, 2008
There's such a thing as getting too creative… (Funny, I've been told this by editors, too).
First up, The Halloween Costume No One Can Guess: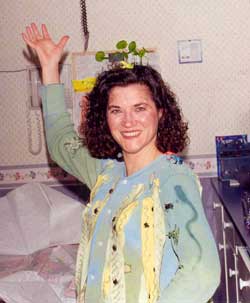 Pond Scum!
INSTRUCTIONS:
Steal husband's pair of baby blue one-piece long johns in comfy waffle-print cotton. Do this completely ignorant of the fact that it will cost $100 to replace them.

Tie-dye long johns in shades of moss green and puke yellow.

Cut old pillowcase into strips and also dye in shades of scum green and scuzz yellow. Sew these "weeds" all over your long johns so that they flutter when you walk.

Smear face with dirt and draw vines and weeds on your temples with liquid eyeliner.

Wear spider or other insect earrings. Glue little plastic bugs all over your costume.

Attach more plastic weeds to head using barrette.

Assure guests that YOU ARE NOT MOTHER EARTH!! YOU ARE POND SCUM!! POND SCUM! Can no one get it?

Remind self to invite smarter guests to next party.
Second up, even if your child begs and begs and begs, unless he's a strapping 15-year-old with Incredible Hulk-like muscles, do not ever ever create the following costume: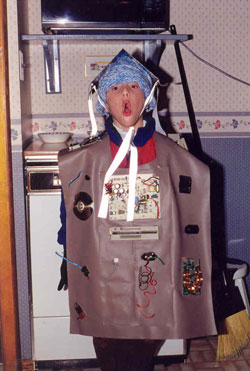 Robot Boy!
INSTRUCTIONS (For Those Who Do Not Follow Warnings):
Allow child to destroy old computer. Allow child to pick out which pieces of computer he wants glued onto his costume. Do not ever think of advising child to choose pieces other than those he desires with his oh-so-cute widdle heart.

Promise child that should a device call a Blog ever be invented you shall not admit if he is Eldest or Youngest on said blog.

Buy gray vinyl and and cut hole for his cuteness head, creating a poncho that can fit over even the heaviest snow suit. HINT: Vinyl for kids' Halloween costumes is my Best Kept Secret (regarding Halloween). I've created homemade Batman and Ninja Turtle costumes using vinyl on which you can then draw muscles, etc. Vinyl makes a great shell for a turtle, on which you can draw the turtle shell lines, and then add a fabric front in yellow, all stuffed with newspapers for padding. You want pictures and detailed instructions? Come back next year.

Glue computer parts onto poncho with

Shoe Goo

. (Shoe Goo can be found in your workshop, if you have a forester for a husband. If you can not find Shoe Goo in your workshop, divorce current husband and marry a forester OR go to nearest workwear store or maybe hardware store and insist on Shoe Goo and no other!) HINT: If you're too lazy to follow my instructions, find some other glue, but it must be thick and gooey and capable of holding heavy computer parts on vinyl.

Cover child's face with silver makeup.

Create hat out of cardboard and tin foil. Attach over

toque

with torn-up pillowcase strips for ties. (Sure, you can use fabric other than old pillowcases, but why bother when fifty million old pillowcases are falling out of your linen closet?) HINT: Pillowcases make excellent Trick or Treating bags.

Very quickly clean every last trace of silver makeup off child's face once you REALIZE HE'S ALLERGIC TO IT!!

Take child Trick or Treating for maybe 10 houses, because the costume is too freaking heavy and he can barely move his widdle tiny legs.
What Halloween costumes would you not recommend?
Happy Halloween tomorrow everyone! (I'm taking the day off to carve pumpkins). Stay safe and guard your children. Eat their candy to test for danger. Tell them it's in their best interests. Don't blame me if they don't believe you.