Friday, May 30th, 2008
Until last week, I'd never read a vampire romance. I'm not prejudiced against the sub-genre—I'm squeamish! The Gremlins movies keep me up at night. So I always figured I'd find vampire novels scary. Guess what? I don't!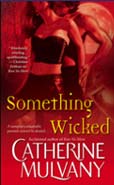 Am I the only reader this late to the genre? This is where I confess that because of my squeamishness I wouldn't have picked up SOMETHING WICKED if fellow Looney Binner, Catherine Mulvany, hadn't written it. (What's a Looney Binner, you ask? Loooong story). I'm so glad she did write this novel, though, because I thoroughly enjoyed the story.
Here's a blippy:
When investigative journalist Regan Cluny travels to the California desert to find out why reclusive millionaire Charles Nash is financing an archaeological dig, she's attacked by a gang of vampire bikers. The bikers leave her for dead, but Nash comes to her rescue. He's shocked to see the puncture wounds on her neck, even more shocked to realize she's the image of his beloved Katie, a woman who's been dead for over a century. Like Regan's attackers, Nash is a vampire, tied to the bikers by a vicious blood feud that dates back to the Civil War. He's tried to keep a low profile while searching for the legendary Font of Miracles, but the bite on Regan's neck tells him his past has caught up with him. And this time he's not the only one at risk. Because of her resemblance to a dead woman, Regan's in danger, too—not only from the bikers, but perhaps from Nash as well. The attraction between them is a powerful force. If he can't control his baser urges, she may find herself face to face with…something wicked.
Yum-yum.
Does anyone have other vampire romances to recommend? (Not that my TBR pile needs to get any taller, but you know how it goes…)