Tuesday, April 22nd, 2014
Sort of a new release!
My two romantic comedy novels, HEAD OVER HEELS and BORROWING ALEX, are now available in a two-book bundle titled, appropriately enough, DOUBLE THE KISSES ROMANTIC COMEDY TWO-BOOK BUNDLE: HEAD OVER HEELS and BORROWING ALEX. How's that for emphasizing Search Engine Optimization?
Because DOUBLE THE KISSES is a bundle, there's a cost savings per book. Yes, two complete novels for one low price! Very info-mercial. Buy once, read twice! Perfect if you haven't yet read either book. Or, if you've read the original Amber Quill Press editions of the novels and would love to see how HEAD OVER HEELS and BORROWING ALEX were updated for the 2012 and 2013 releases, DOUBLE THE KISSES is a cost-efficient way to do so (both books were revised and re-edited and BORROWING ALEX includes two additional scenes over the previous edition).
I'm still catching up following our trip to Australia, so haven't yet built a book page for DOUBLE THE KISSES on my website (bad Cindy), so here are the links to the major on-line e-tailers:
For readers from other countries who don't purchase from the above Amazons, please check your home country's Amazon site.
Apple iBooks (so easy when one link goes everywhere – thanks, Apple). Note, you must have iTunes installed on your computer for the link to work.
Of course, you can still buy the ebooks, audio books or trade paperbacks as individual editions. Check the HEAD OVER HEELS and BORROWING ALEX book pages for links.
I totally love the DOUBLE THE KISSES cover! All shiny and new, designed by talented Kim Killion of The Killion Group, the cover combines visual elements of the Blue Orchard Books editions of HEAD OVER HEELS and BORROWING ALEX (which you can check out by clicking on those links or eyeballing the blog sidebar on the right). Take a look: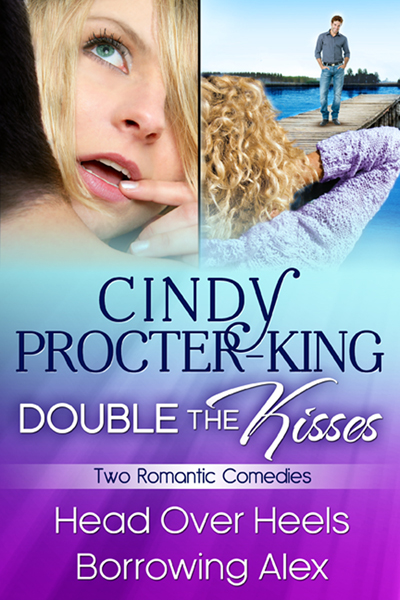 Want to know about the books?
HEAD OVER HEELS – Set in Vancouver and Whistler, B.C., Canada
"What a set-up for a comedy of errors! Everything that can go wrong in this scenario does go wrong, and the reader is well entertained by the comedic chaos. If you like your romance with humor, you'll love this one." Fallen Angel Reviews
One tiny lie can cause a whole lot of trouble…
Magee Sinclair has had it up to her sassy short hairdo with the recent blunders pushing her family's advertising agency to the brink. How can she accept the promotion her father plans when she keeps making costly mistakes? She needs to bring in more business however she can. So when new client Justin Kane asks her to role-play as his girlfriend for a weekend in exchange for a lucrative campaign, she jumps at the chance.
Justin's goal to expand his chain of bike stores hinges on a distribution deal with a manufacturer. First, he needs to impress the man at a mountain resort while they bike trails with their significant others. But Justin's girlfriend dumps him, forcing him to find a quick replacement. Magee—pretty, clever, and a skilled cyclist—is the perfect choice to masquerade as his "lover."
Or so Justin thinks.
Because Magee is in major trouble. She knows no more about mountain biking than Justin does about demi-bras. Before long, an irate ex pops up, fake identities abound, and a whole lot of doors slam in the middle of the night. Yet, through the chaos, Magee and Justin discover what it really means to fall head over heels….
Length: 50,000 words. Includes mild cursing and love scenes.
BORROWING ALEX – Set in Seattle, Washington and also at fictional Lake Eden.
"I really like romantic comedy as a genre, but it takes some really good writing to make me laugh. This book made me laugh." Fallen Angel Reviews
She'll return him eventually. Or maybe not.
Nikki St. James wants to get married more than anything. But what's she to do when her fiancé spends his days sucking up to her rich father instead of helping with the simple task of, oh, setting a date? Why…fake a fling with the best man, of course!
Nikki is the first to admit that ambushing Alex Hart and whisking him off to secluded Lake Eden is a tad desperate. But maybe pretending she's hot for the handsome history professor will kick-start the attention of her future groom. Besides, a sojourn at a lakeside cabin is exactly what uptight Alex needs. Not that Nikki cares what he needs or how sexy he is….
Alex is not on-board with Nikki's plan. Yeah, he'd love a break from his quest to achieve tenure at warp speed, but getting kidnapped by a crazy blonde hardly tops his to-do list. If what he's heard is true and Nikki is perfectly happy with her 'open' engagement to his former college roommate, why bother getting married?
Quickly, he realizes Nikki isn't a wild party girl at all. She's cute, sweet—and faithful. Against his common sense, he's falling for her. Should he spill the beans about her cheating fiancé? Or will he ruin his own chance for a happy ending?
Length: 50,00 words. Includes mild cursing and love scenes.
*Head Over Heels and Borrowing Alex are stand-alone romances that share the same comedic tones, over-the-stop situations, and wacky characters. The stories are unrelated and not part of a series.
Links again!
For readers from other countries who don't purchase from the main Amazon, please check your home country's Amazon site.
Now, back to catching up on business-of-writing and soon, very soon, back to writing itself!
Thanks for your support, my dear readers. Happy spring!