Friday, August 12th, 2011
After a July that was mostly, well, like March, summer has finally found its way to my neck of the woods. We can't count on it hanging around for long, so I'm trying to make the best of it. Recently, I enjoyed two back-to-back long weekends, one with my dh at my parents' lake house to celebrate our anniversary, and then last weekend we took the boys to Whistler (where the 2010 Winter Olympics were held). In between, I've been madly meeting deadlines for Penny.
The Whistler weekend was spur-of-the-moment, as Eldest Son is moving to the Middle East to teach school for a year. He'd just finished his summer job and Youngest Son had a few days off work, so we packed up and drove several hours to the mountain resort. I haven't been to Whistler in over a decade, and we had a blast. Last time I visited, the group I was with went mountain-biking. This time, my family and I rode the Peak to Peak gondolas that travel between Whistler Mountain and Blackcomb Mountain, tried out ziplining for the first time, and E.S. went bungee jumping! My God, that kid is fearless.
I don't have photos of the ziplining, but I did buy the bungee jumping CD. So here, in pictures, is a taste of my summer. How's your summer going?
Out to dinner in Whistler, E.S. and Y.S. (left to right):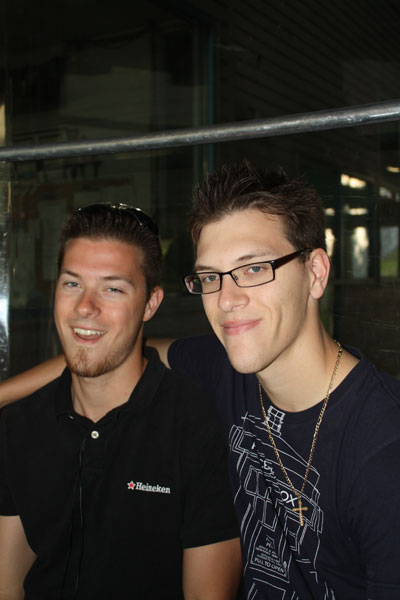 Whistler view from our hotel: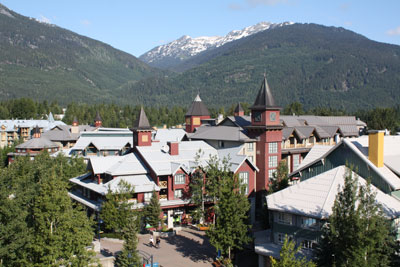 The husband et moi in the Whistler Mountain gondola:
At the Whistler summit (the chair lift ride from the gondola drop-off helped me kinda overcome my fear of heights…but not by much!)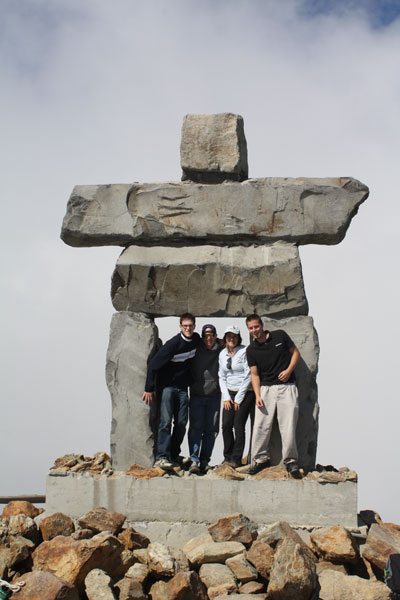 View of Whistler as we're descending in a Blackcomb chairlift after riding the Peak to Peak gondola: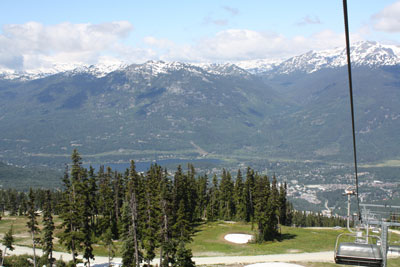 Eldest Son bungee-jumping: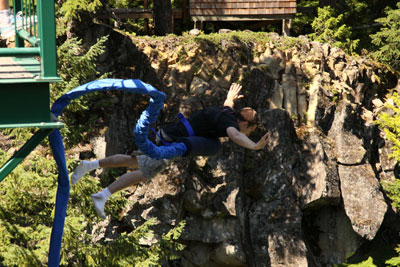 I asked what his thoughts were on the way down. He said, "Big river!"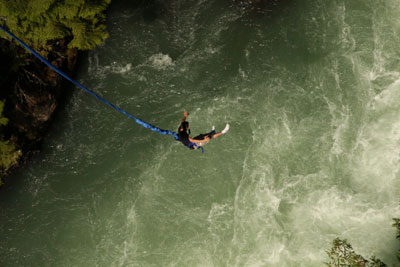 Bungee-jumping is now on my Bucket List. I figure if I can zipline, I can bungee-jump. Except I need a couple more ziplining experiences to confirm it. And I don't plan on repeating the experience any time soon! I was lucky I could manage a wave.