Monday, February 9th, 2015
My writing pal, Kate St. James, has joined the self-publishing ranks with her series of erotica short stories and short novellas, TEASE Sizzling Romps, set in Vancouver, B.C.
Today Sugar Rush, Story 2 of the series, released from Amazon, and Tea for Three, Story 1 (originally published with Ellora's Cave) has been available since the end of December.
Right now, Sugar Rush is only 99 Cents for a limited time and Tea for Three is FREE today and tomorrow, February 9th and 10th!
Just a note, these are sizzling hot stories, so if reading about super-hot erotic encounters between consenting adults offends you, it might be best NOT to download or purchase Kate's stuff. If, on the other hand, you love naughty tales, have at 'er!
Tea for Three – FREE Today and Tomorrow! (Always Free for Kindle Unlimited Subscribers)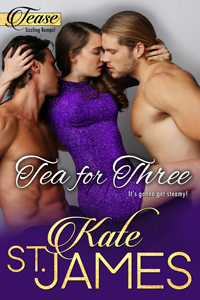 It's gonna get steamy!
Uninhibited tea shop manager Layla Aziz adores her scorching hot relationship with blond and buff construction worker Gil Cuthbert. Her worry is that over the years she's slept with countless dudes who tickled her libido. Now, can she go the distance with one guy?
Then Gil surprises Layla by arranging a ménage with his best friend, dark and serious Hunter Cole. Gil, it seems, will do anything to keep Layla satisfied. That includes sharing her with ultra-sexy Hunter again and again—not only for a passion-filled night, but for many more to come.
As long as Gil is in charge of her sensual needs…sign her up!
Sugar Rush – 99 Cents for a Limited Time! (Free for Kindle Unlimited Subscribers):
Her sweetest addiction…is him.
Tea barista Siri Jorgensen believes in monogamy—until she discovers her ex is a cheat. What bothers her most is she tolerated his lackluster moves in bed. Never again! From now on, if a guy doesn't satisfy her craving for extra-sweet, extra-hot loving right away, he's out the door.
Enter Caribbean-born architect Lucas Haines, the star of her wildest fantasies. With Lucas, Siri yearns to scorch the sheets—the armchair, the counter. She isn't picky. For one incredible night, he more than satisfies her lusty addictions.
But when he wants dozens of replays, can she resist?
A Little Q&A with Kate:
Me: Congratulations on the release of Sugar Rush and Tea for Three, Kate! Can you tell us a little about the series?
Kate: Thank you, Cindy, and thanks for having me on your blog! Tea for Three introduces Layla Aziz, Siri Jorgensen, and Grace Delgado, each of whom appears or is mentioned in Tea for Three, Sugar Rush, and Grace's eventual story, Sweeter than Cream. Each story focuses on its heroine's sexual adventures–along with some emotional surprises along the way. So there's some girlfriend bonding and dishing, but these stories, ranging in length from 10,000 to 15,000 words, are focused on the women's physical relationships and sexual journeys.
Me: Tea for Three is a menage story, right?
Kate: Yes, my first menage story. Before Tea for Three, which is decidedly erotica, I wrote erotic romance, three novellas and a single title romance (information on these can be found on my website) from both the hero and heroine's points of view. However, Tea for Three and the other TEASE Sizzling Romps stories are all/will be told solely from the heroine's point of view.
Me: In Tea for Three, Layla is already in a relationship with Gil when he introduces her to Hunter, and in Sugar Rush Siri meets Lucas during what she thinks will be a one-night stand, but Grace is already married in Tea for Three. What do you have planned for her?
Kate: Grace is married to a hot Argentine tango instructor, Nico Delgado. The reader gets little peeks into their relationship in Tea for Three and Sugar Rush, but Sweeter than Cream will focus on Grace and Nico's marital adventures.
Me: Such as…?
Kate: Well, let's just say their first anniversary is rapidly approaching and Grace is busy brainstorming erotic ideas to enhance their special day. But Nico is going to get more than he bargained for. Just because you're married doesn't mean sex has to be boring!
Me: Oh, sure, don't answer my question! Do you have excerpts for Tea for Three and Sugar Rush?
Kate: Yes, on my website. Just scroll down on the Tea for Three page and the Sugar Rush page, and you'll see excerpts for both stories.
Me: Great. How can readers find out more about your books or keep tabs on the development of Grace's story?
Kate: I don't have a blog (so thanks again for having me), but readers can keep up to date with me on Facebook or Twitter, and I have a newsletter called Kate St. James's New Release Alert that I only put out when I have a new release or other important news to share. Signing up for the newsletter is the best way for readers to ensure that they hear my news.
Me: I think I'm on that newsletter list! So, Kate, will TEASE Sizzling Romps feature just the three stories we've discussed here or do you have anything else in the works?
Kate: Originally, I conceived of TEASE Sizzling Romps as three stories, but as I wrote Sugar Rush, I discovered a new couple and a new heroine who might want her own story, which would become the fourth story of the series. However, I've also had readers request more of Layla, Gil and Hunter (Tea for Three). That's the wonderful thing about indie publishing. I have a lot of choices, and I have a lot of control. Don't get me wrong. I've enjoyed working with my various publishers over the years, but the TEASE Sizzling Romps series has the potential to go in different directions and indie publishing allows me a lot of leeway as to how I proceed. Will I write a second Layla, Gil and Hunter story following Sweeter than Cream? Or will I write a fourth heroine's story? There are so many options. I really don't want to box myself in. Sweeter than Cream will come next. That's what I know for now. 🙂
Me: What about a cover for Sweeter than Cream?
Kate: There's a small version of the Sweeter than Cream cover on the Coming page of my website. All three covers were designed by Kim Killion of The Killion Group. We did a lot of brainstorming to come up with the series concept, and I love it!
Me: They are gorgeous covers! Thanks for dropping by the blog, Kate. I'll end with your contact information.
Kate: Thanks for having me!
~~~~~~~
Subscribe to Kate's New Release Alert Newsletter