Tuesday, June 7th, 2016
This week's theme was a tough one for me, because I do quote from some movies but not often, and most of the movies are old. But if I were a movie-quoter, here's my list of Movies I Sometimes/Sorta Quote From:
Oh, I couldn't find the Listify Life cards for the last two weeks of the spring challenge, so I just wrote on a notebook page. It was simpler, so I'll probably continue the notebook pages for the Summer Challenge (Yes, it's continuing!).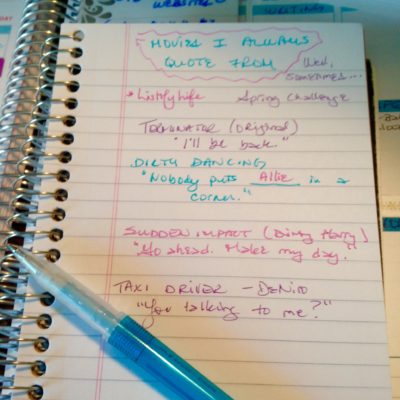 I can not seem to get a non-blurry picture.
"I'll be back." – from the original Terminator. Must be said with an Arnie-ominous voice.
"Nobody puts Baby in a corner." – with Name of Choice in place of Baby. Allie McBeagle likes to use this one. From Dirty Dancing.
"Go ahead. Make my day." From, I think it was, one of the Dirty Harry movies starring Clint Eastwood. The Internet says it's from Sudden Impact. Must attempt channeling of Clint when speaking this line.
"You talking to me?" – I knew this was a Robert DeNiro quote, but I had to look up the movie. I've never seen Taxi Driver, but mucho channeling of DeNiro occurs when this quote is uttered.
Are you a movie-quoter? I'm proud of myself that I managed to come up with some!
There's one more week remaining in the Listify Life Spring Challenge. But a Summer Listify Life Challenge begins, well, sometime after June 21st, the equinox. I'm gonna try participating again.