Monday, July 5th, 2010
Nasca continued…
After the plane ride over the Lines, Oscar the Guide (not Grouch!) was supposed to take us to lunch then deposit us at our hotel and pick us up again in the morning for a tour of the Cantalloc aqueducts before popping us onto the bus again for a looooooooooong ride back to Lima. We decided we'd rather skip the lunch and see the aqueducts immediately following the lines. For one thing, I was feeling ill following the plane ride (a lot of people chuck their cookies). It was hot, and the idea of having to get up the following morning when we could fit everything all into one day didn't make sense to us. Plus, it meant that Oscar could get himself a new crop of tourists in the morning.
The aqueducts were pretty cool, but I can't show you everything or we'd be here until September. You can click this link for some great photos and information. Trust me, it's something to do with water. And it's yet another indication of how ingenious the ancient Peruvians were. These aqueducts are still in use today. Oscar walked my dh down into one of them and scooped water over his (Oscar's) head.
What? You won't accept no pictures? Okay, then, just one. I can't resist showing off the blue sky!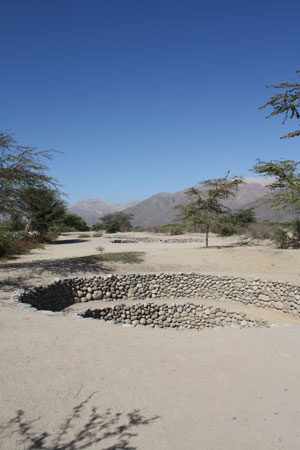 Usually, I'm showing barren landscapes of this area of Peru, but there's plenty of greenery around the aqueducts, because, 'natch, of the underground water channels they access.
So…back to the hotel we went, and then out to dinner. We hopped down to a little Chifa place. Chifa is Peruvian Chinese food. In Lima, we'd heard that we had to try it. I thought I'd get a second chance, because my dish of Chifa was ultra-bland and I could barely eat it. My Liege ordered something more adventurous, and his was great. That'll teach me.
Another thing we were introduced to in Nasca was Inca Cola. A girl where M.L. works told him, "You have to try it!" It's Peruvian pop/soda/soft drink/what-have-you. So I ordered an ice-cold bottle on a boiling hot day. It was yellow. I tentatively sipped. It was cream soda! Just yellow instead of pink.
Ice-cold and on a super hot day when you're feeling healthy, Inca Cola is great. Warmish on a day when you're not feeling healthy, Inca Cola is…well, suffice it to say that once my stomach turned in Peru I couldn't drink another bottle of Inca Cola.
At our hotel, while lounging by the pool (which no one swam in; it seemed more for looks), I had a chance to meet several people from a group tour. That was when I learned that most people who travel from Lima to Nasca either stop at Paracas or Ica on their way, or they continue down to Arequipa and the Colca Canyon afterward. I'd researched Arequipa. It was somewhere I really wanted to visit. But we only had three weeks, and we were still on the first leg of our four-leg journey. So we're saving Arequipa for another time.
Poolside, I also briefly talked to a woman named Nancy Vogel. She, her husband and their two sons have been biking (as in pedaling) from Alaska to the tip of South America for two years now. Nancy has a website and is chronicling their journey on her blog. Her sons also write entries. Isn't that cool?
Now how, you may ask, does one keep up with a blog in Peru? And why didn't Cindy? I can answer the second question easily: laziness. The first is easy to answer, too. There are Internet cafes everywhere in Peru, and access in the hotels. I can't recall staying in a hotel that didn't have at least one computer that you could grab a free minimum five minutes on. But I do have a tip! (I know, you missed the tips).
Trip Tip: If you're using a public computer to access your email, LOG OFF YOUR PROGRAM WHEN YOU'RE FINISHED! You wouldn't believe the number of times we sat down at a computer and found ourselves in someone else's Hotmail account. Able to read their email if we so wanted! Able to send nasty notes to their friends pretending to be them! (Not that we did that). I sat at computers that had Word documents saved to the desktop that I'm guessing the writer emailed off as an attachment and then DIDN'T DELETE FROM THE DESKTOP. It truly boggles my mind. For Pete's sake, don't leave your documents on a hotel's computer. Especially if you don't know how to use spell check. Don't make me feel embarrassed on your behalf!
Day 6. Yes, we're on Day 6. Aren't you relieved? Basically, we traveled back to Lima by bus. Below is typical geography of the highway until it got dark. The lunar-landscape look was cool at times, and other times eerie. It made me glad I live where there's lots of trees:
We returned to Lima waaaaaaaaaaaaay later than we expected. We met a lot of, ahem, "younger people" in Peru who thought nothing of taking 18-hour-long bus rides. I learned I can handle about 6 hours on a "luxury bus" and 10 hours on a train. But I'd rather travel six hours on a luxury bus than 8 hours by plane.
In Lima, we stayed for one pitiful night at a B&B called Second Home Peru. I say pitiful because I wanted to stay there longer, but we couldn't. I tried to book the B&B for our first two nights in Lima, before we went to Nasca. But it only has 6 bedrooms, and it was fully booked. So we had one wonderfully blissful night there. This place was amazing. It was once owned by Peruvian artist Victor Delfin. Remember the sculpture of The Kiss I mentioned when I first began chronicling our journey? (I might have spelled his name wrong in that post—sorry). That was his. The B&B is filled, and I mean to the rafters, with his artwork. A little art gallery exists inside the B&B, but we got there too late at night and had to get up too early the next morning to tour it. My Liege did travel all over the grounds taking pictures, but it was very dark and most of them didn't turn out well. Sculptures were all over the grounds, and there was a walkway down to an overlook of the ocean. We weren't supposed to be down there at night, and M.L. caught heck from the night clerk.
Our room was incredible. We stayed in some "five-star" hotels that weren't as nice as this B&B. The staircase to the second floor was wide and gorgeous wood. Our room shared a huge deck with another room, and it had a view of the ocean. We walked to amazing Italian food (artichoke ravioli is to die for!). The bed was comfy…and it had a claw foot tub! I was in heaven. Cue Cindy taking a bath: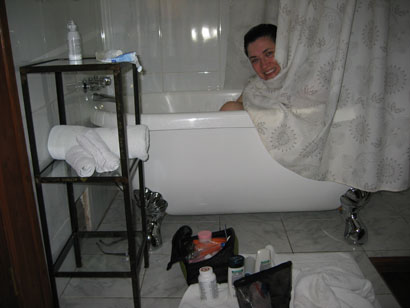 All this for under $100 Canadian a night. If I ever have occasion to stay in Lima again, I would definitely, without a doubt, stay here again.
Trip Tip: If you're on a tour, you really have no choice but to stay in the hotels the tour places you with. Either that or feel like you're losing money by NOT staying the tour hotel and paying for a room elsewhere. Participating in tours can get you access at very reasonable prices to some amazing hotels! On the other hand, some hotels become…very comfortable with the knowledge that tour groups book through them, and they, shall I say, might not try as hard as hotels that aren't booked by tour groups. If you are traveling on tours, the nights you don't HAVE to stay in a tour hotel, get adventurous. Go on-line and search out reviews of where you think you might want to stay. Have fun with it!
We thoroughly enjoyed all three B&Bs/hotels that we booked on our own on this trip. The Nasca hotel booked as part of our Nasca Lines tour was okay. The room was okay. The restaurant was pretty darn good. But another hotel we stayed in later in the trip, booked along with a tour, was…quite disappointing. And that's being polite!
The next morning, Day 7, we got up at the ungodly hour of 4 a.m. because we had to be at the train station by 6, and if we missed our train we'd miss the second leg of our trip. Couldn't let that happen.
Trip Tip: If you're traveling for 6-7 hours on a bus one day followed by a 12-13 hour train trip the following morning, and you're getting up super early, DON'T believe the tour representative who assures you that you'll arrive at your hotel between 3-6 p.m. Don't think one short night of rest (at your age) is enough. Book a second night in Lima, relax, go visit a museum, and thank God your stomach hasn't yet turned.
We were the second or third people there. Talk about neurotic. Those are our suitcases, made by a company called CalPak. They were great. They had wheels, but also a backpack hideaway we never actually had to use. They came with matching daypacks that zipped onto the larger packs. Everything for 3 weeks went into those two packs, including souvenirs (the green pack was mine). Two pairs of jeans (one on my body) and one pair of shoes. A fleece (that I'm wearing) and a pair of fleece track pants to double as PJs at high elevations. I also brought a sleep shirt for lower elevations. One lightweight, zippered hoodie, two long-sleeved tops, two elbow-length tops, two T-shirts, and one raincoat that wrapped up into a ball. My long-sleeved tops were actually PJ tops! I wore them during the day, and I wore them at night. No one suspected. They just thought I was fashionably challenged. Nothing wrong with that.
That's the view across from the train station. Here's another one. I had no idea what I was doing, so I'm pleased with how they turned out. #experimentsuccess!
Thus ends Leg 1 of our journey. We're off on Leg 2!