Tuesday, June 14th, 2016
Today is the last of the Listify Life Spring Challenges! A new Challenge for Summer starts next week, and I'm going to see if I can keep up. But this week's theme is very simple for me, Favorite Vacations I've Taken… 
In the last six years, my husband and I have done a LOT of traveling. The plan is to now slow down (our bank accounts need to catch back up). There are a ton of places I would still like to travel, but currently no plans are in place beyond next year. With no further ado…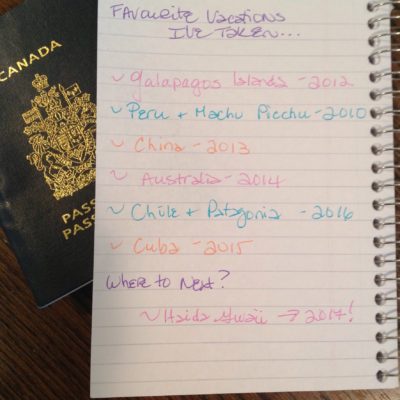 The Galapagos Islands, Ecuador – 2012. This is by far the best vacation I have ever taken! We were on a catamaran exploring the islands for two weeks and also enjoyed some time beforehand in Quito. During these two weeks, we made some friendships that are still on-going. We've met one of the couples in Vegas for a visit and stayed with another couple in Australia. They're returning the favor by visiting B.C. next year.
Peru and Machu Picchu – 2012. And Lake Titicaca, and the Nazca Lines, and Huancayo in the mountains. This trip started our six-year whirlwind of adventures and was a celebration for our 25th anniversary. This trip was just my husband and myself. We felt like we were backpacking through Europe again, like a couple of kids.
 China – 2013. Our son moved to China several years ago to teach the B.C. high school curriculum in Shanghai. We had a wonderful time visiting him and exploring Beijing, the Great Wall, the Terracotta Warriors in Xi'an, visiting rice fields and escaping landslides, but there was some Serious Stuff happening back home, so we decided to return home early. It's human nature – the Serious Stuff will forever affect how I feel about China. I loved traveling there, but a melancholy followed us.
Australia – 2014. My husband had an uncle in Australia, plus cousins we had been planning to visit since the 80s, so we finally gave it a shot. For a solid month. One of our two longest trips. Loved Australia! Visited Sydney, the Great Barrier Reef, Ayer's Rock, Perth (where we stayed with a couple we met in the Galapagos) and Melbourne. We even met up with an Aussie we knew from 1981 and had lost touch with long ago.
Chile and Patagonia – 2016. This year's trip! And the last "big trip" until we see where the next chapter of our lives takes us. We spent four weeks visiting the wineries south of Santiago, Easter Island, Chiloe Island, cruising the Patagonian Fjords and seeing Pia Glacier, and trying to land on Cape Horn, visiting the End of the World, and Buenos Aires. The big surprise for us was how much Chile was like British Columbia. So it wasn't as different as, say, the Galapagos or Peru, but it was very much a Bucket List experience.
Cuba – 2015. Last year we took a year off from adventure travel and stayed in an all-in-one resort for a few days in Varadero. But then we took a 7-day cruise around Cuba and had the opportunity to visit several ports of call before Cuba and the U.S. mended ways.
Next Stop? Haida Gwaii in our own British Columbia, next summer. We're going on a fishing trip to the Queen Charlottes with the same Aussie couple we stayed with in Perth after meeting them in the Galapagos.
What are your travel hot spots?