Dates Explored: January 30 – February 4, 2016
This post is information-oriented, for those who might be interested in traveling to Easter Island and want to know a bit about the ins and outs. Pretty photos are forthcoming in future posts, I promise!
Last we left off, we were booked into the Hilton Garden Inn by the Santiago Airport. We had no problem booking and catching the shuttle (done at the hotel's front desk) to the airport for our departure to Rapa Nui (Easter Island), but the airport was an absolute zoo once we were inside. We didn't know it at the time – we thought so many Chileans were traveling because it was their summer –  but we had, quite by chance, decided to travel to Easter Island during the annual Tapati Festival, during which the Rapa Nui-ans celebrate their culture, traditions, music, dance, and athletics, some of which are quite unique. This link has photos and videos to show you.
Arriving during festival time was a surprise for us, but it's a cool time to visit the island because every night you can go down to the festival area and see the competitions, mingle with Chileans, or arrange to watch some events (we were there to see the Moai, so only attended one event – more on that another day – but you could organize a trip around attending several events if you wished). I had heard about the festival, but we organized our trip around a 4-night cruise through the Patagonian fjords (to come!). We planned backward and forward from our cruise departure date of February 13th, much further south in Punta Arenas. So we happened to book flights to Rapa Nui during the festival as part of booking backward from our cruise.
The festival explained the busy-ness of the Santiago airport! Also, our flight was delayed six hours. There wasn't really an explanation for this, other than there are only one or maybe two flights a day to Rapa Nui, and if one is delayed (they're about six hours long), then the next is delayed, and so forth.
So if you're planning on traveling to Rapa Nui, be prepared to be flexible (and cheerful during your wait in the airport). Also, I've never quite encountered this before, but when you board your LAN flight (or United Airlines coming back from South America), be prepared that someone might already be in your seat. I have no clue why – they're trying to get a better seat and think the person who bought the seat won't notice? This happened to us on United coming back during a red-eye and happened to someone else on our leg to Rapa Nui. If it happens to you, the flight attendants will quickly get things sorted out.
Travel Tip! I have no clue why, but we booked our flights through Expedia and on LAN airlines, and for reasons completely unknown to Moi, my husband and I were able to score Business Class seats (the kind that recline into little beds) round trip for $600 LESS than Economy seats. My sister-in-law booked a couple of days after I did, and their seats cost $300 more than ours and were only Business Class one way.
So…check flight costs often and be prepared to pounce when you see a deal! This was the first time (and so far only time) my husband and I have traveled Business Class, and it was quite the treat.
The Rapa Nui airport was every bit as chaotic as the Santiago airport. Travel Trip! You can buy your Park passes (which you need to visit the Quarry and Orongo – the main two archeological sites – at the airport. Look for the kiosk after you get off your plane and before you enter the airport arrival area to fetch your luggage.
There are plenty of accommodation choices on Easter Island, but during festival time things can book up very fast. We wanted to be walking distance to town and not spend $300 a night, so we chose Cabanas Tautira, which perfectly fit our needs and was very economical for all the space you get.
Jorge, our host, met us at the airport, which was utterly chaotic. My luggage was one of the last pieces to deplane, so we were there for awhile. Jorge greeted us with flower necklaces (quite common practice, we noticed) and drove us around the town to orient us before settling us into two adjoining "cabanas," which had two bedrooms each (one with two single beds, which we used as a large walk-in closet), the large bed facing the yard, a living room and kitchenette, and a bathroom. The walls of our living room/kitchenette abutted the walls of BILly and SILly's cabana: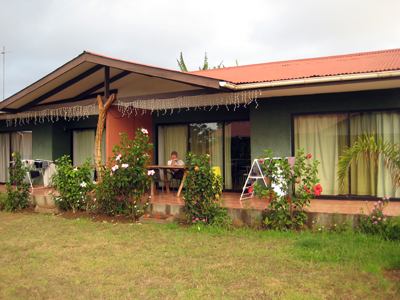 That's BILly sitting at their table. My only quibble about the cabanas was that I have a lot of hair on my head and could have used a change of towels during our five nights there. Now, I could have asked Jorge for a change of towels and I am sure he would have provided one, but I didn't, so those towels were a little, uh, crusty by the time we left.
The other thing to be prepared for is when they decide to mow the lawn at the cabanas, because they do so with a weed-whacker type thing. 🙂 The grass is pretty dry in summer, so if your sliding doors are open you might find grass and twigs and such flying into your bedroom or all over your drying rack with your freshly handwashed laundry. But, honestly, that's part of the charm of the cabanas.
The location couldn't be beat. We could walk to town, and Jorge rented us a very clean vehicle for two days. Vehicles are just as easy to rent "downtown," but it just made things simpler to rent them from Jorge.
If you popped by to see pictures of the Moai, do not despair, they are coming! Just not today. I know, I'm bad. The next Easter Island post should appear Thursday, March 31st.
Any questions about Easter Island? Just drop them in the comments thread and I'll do my best to answer.