Ha, betcha never thought I'd get my pictures organized, did you? Betcha never thought I'd write a travel blog post ever again. How could you doubt me?
Okay, the pictures are nowhere near organized. Because I'm not just going off my camera. First, I took two cameras, then my dh took his Blackberry, which can take some mighty fine pictures. Then, between our two travel companions, we had another three cameras. I had to wait to get pictures from everyone before I could select pictures for my blog.
We went to Ecuador this year—a trip for which I've been saving since we returned from Peru (which answers the question of whether I'm independently wealthy. Uh, no.) We invited Steve's sister and brother-in-law to come along. They did, and we had a great time together. I'd love to travel with them again some day. Especially if they pay for it and I just show up. That would work out "wanda-ful!" (More on that several posts down the line).
For the purposes of my Ecuador and Galapagos blog posts, my sister-in-law shall henceforth and hitherto, in between and upside down, be known as LP. And her husband shall be known as BP. Steve only gets one letter, because he insists on having a last name that starts with a K. He shall be S. I shall be known as CP or me, myself, I, The Wonder One, or whatever else pops to my beleaguered mind.
So let's get going.
It took us a long time to get to Quito because first we had to overnight in Seattle (all hail the marvelous dinner we shared with friends there) and then the next morning, Tuesday, April 17th, we flew two planes to Quito. Santiago, our cute representative from Adventure Life (we booked our Quito B&B and Galapagos cruise through Adventure Life in the U.S., and they did a great job), picked us up from the airport and took us to Casa Aliso, a B&B I would heartily recommend. Casa Aliso gets great reviews on Trip Advisor, and, after staying there, I can understand why. The house is lovely and the staff very helpful. They serve a fantastic breakfast and are within walking distance of several good restaurants. For our first day in Quito (the Day 3 referenced in the title of this post), after a nice sleep we caught a taxi outside the B&B and made it to Old Town for about $5.
Travel Tip! Ecuador uses the American dollar, but they also have their own coins, so sometimes you'll get change back in U.S. paper money, sometimes U.S. coins, and sometimes Ecuadorian coins. But never, ever will they give you Canadian coins. Or Euros. Or stones. So just stick with the U.S. dollar and you'll be fine.
Travel Tip! How do you choose a travel company through which to book your Galapagos cruise? I don't know. Search the Internet.
You missed my travel tips, didn't you? Go on, admit it.
Okay, well, whatever. Maybe you'll get more Travel Tips as we progress. Or maybe not. It depends on how generous I'm feeling at the time. For now…
Piccies! (Unless I give someone else credit, I'm the primary photographer. Everyone else was my secondary photographer. They just didn't know it at the time.)
Once in the main square of Old Town, we were quickly swarmed by several fellows wanting to act as our unofficial tour guide. So, memories from 1981 (I was 11 months, just advanced for my age) of getting chased through the streets of Tangier, Morocco after not hiring a local guide in mind (I'll tell you about it someday), we hired the first fellow who came along. His name was John, and he once taught in B.C.! Also San Francisco, Toronto, or Pittsburgh, depending where you said you were from. But he showed us a great time, quickly scuttling us around for an hour, pocketing our money, and zeroing in on his next customer.
Travel tip! (That didn't take too long). If you want to know everything about everything in Quito, hire an official tour guide from an official tour company. Otherwise, John works just fine. And we were hungry. We wanted lunch.
But, first, some people-watching in the square. Here are some super cute school kids exercising nearby: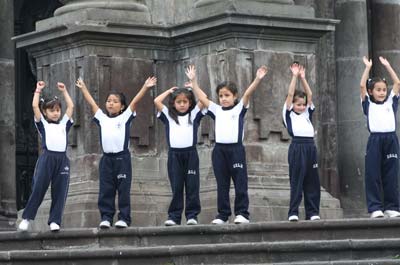 We had lunch in a super nice (super cute!) restaurant across the square from the school kids. If that's not effective direction, I don't know what is. Really, just sit in the square, wait for the school kids, watch them exercise their cute little hearts out, then turn around and look the other direction. Step into an atrium-like structure from which stem several restaurants. Choose the one overlooking the square. Order Club beer. It's better than the other stuff. Would I steer you wrong? (I'd call that a Travel Trip, but then I'd just be spoiling you. You'd expect them every other sentence, and I'm not that accommodating.)
After lunch, we caught another taxi and headed to the equator. The GPS-defined equator. So of course it began to pour rain (in the form of Oregon-like sheets of rain) down upon our heads. So The Pack of Four (new nickname, short form "The Pack") quickly assembled for the obligatory "I stood on both sides of the equator at once!" photo.
Travel tip! (last one this post, I promise). Choose a bright purple rain coat for your trip to South America. Because then your group will never lose you. Of course, you'll also get teased mercilessly for being The Purple Lady once it's discovered that nearly every other item you packed is also purple. And then you might recall that, in your family, there really was a Purple Lady who had the audacity to pass away a week before your wedding. She even wore purple in her casket. And now you might be in danger of turning into the new Procter Family Purple Lady! If this is too much to bear, you can't handle the responsibility, then go ahead and pack navy blue.
After a soggy trip to the equator, everyone deserves a nice glass of wine in a wonderful Ecuadorian restaurant that I would thoroughly recommend if I could remember the name. Great music, and I ate a bit of deep-fried pig's feet, brave soul that I am :